Trending:
Pickled cabbage "Petal" with beets: you can eat after 3 days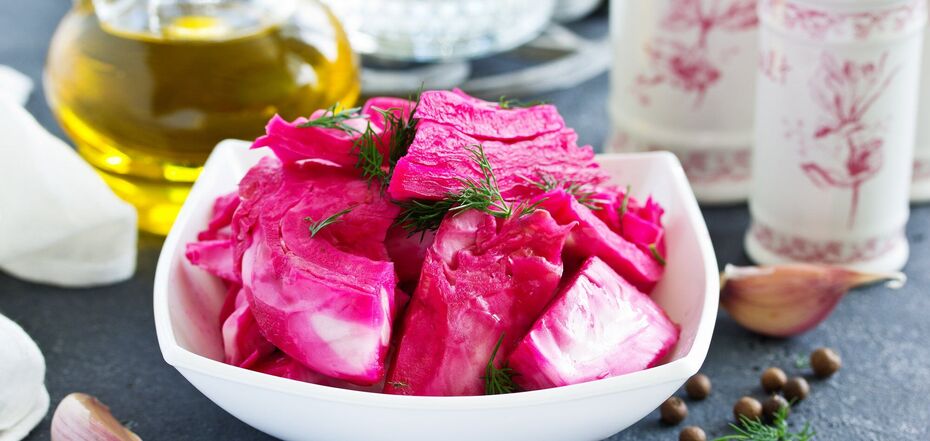 Pickled cabbage with beetroot. Source: depositphotos.com
White cabbage is a very healthy vegetable that contains fiber, which improves intestinal motility, and it also contains sulforaphane, which is an antioxidant that protects the intestines from damage. In general, white cabbage is a very useful product for the health of women and men, especially in pickled and fermented form.
The recipe for spicy cabbage "Petals" was published on the Instagram food blog "mama_moze_tato_dopomoze".
Ingredients:
Cabbage - 1 pc
Beetroot - 2 pcs
Carrots - 1 pc
Garlic - 1 head
Parsley - to taste
Hot pepper - 0.5 pcs
Marinade:
Water - 1.5 liters
Salt - 2 tbsp
Sugar - 4 tbsp
Bay leaf - 2 pcs
Peppercorns - 10 pcs
Vinegar - 2 tbsp
Method of preparation:
1. Cut the raw vegetables and put them in a container.
2. Marinade: bring the water to a boil with all the ingredients for the marinade, boil for 3 minutes and pour over the vegetables.
3. Cover the cabbage and put it under the press and transfer to a cool place for 3 days.
You can also find recipes on OBOZ.UA: