Trending:
Paris, London and Berlin lag behind: list of the best and worst European cities for living and working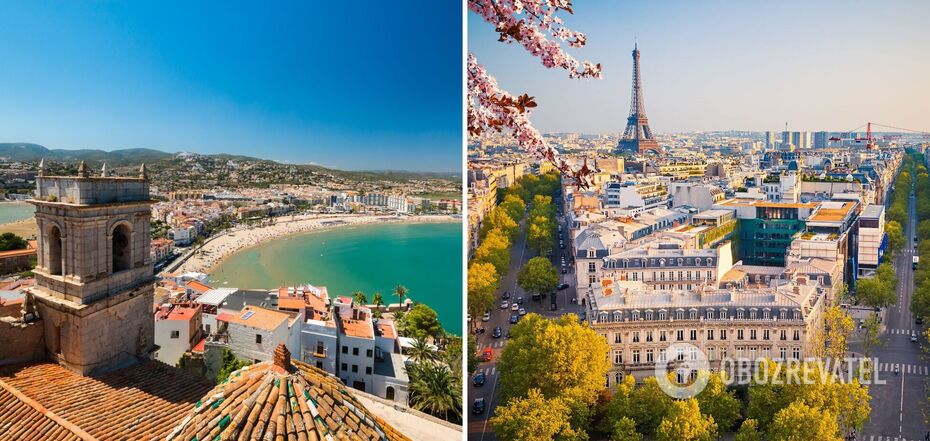 The best and worst cities in Europe to live and work in
InterNations, a global community of people living and working abroad, conducts the Expat Insider survey every year to determine which cities are the best places to relocate. These surveys help potential expats - people who have citizenship in one country but work under contract in another - to move. This time, the organization interviewed over 12 thousand expats who shared their insights on living, working and leisure in 49 cities around the world.
The ranking of the best and worst cities was published by Euronews. Surprisingly, such popular cities as London, Berlin, Paris, and Rome are among the outsiders.
The best cities in Europe for living and working
1. Malaga
2. Alicante
3. Valencia
4. Ras al Khaimah
5. Abu Dhabi
Malaga is in the first place. This Spanish city received positive feedback from 90% of respondents. They noted that the locals here are very friendly to foreigners and that the climate and weather are pleasant throughout the year. Housing in Malaga is affordable: it is not only easy to find but also easy to buy. Even employees with a small budget, according to the respondents, can choose a decent apartment. Respondents also emphasize that it is easy to combine work and personal life in this city.
Two other Spanish cities, Alicante and Valencia, took second and third place in the global ranking, while Madrid was ranked sixth. Like Malaga, they have succeeded thanks to high indicators of ease of settlement and quality of life, which are created by a friendly culture and affordable housing.
We would like to pay special attention to the bronze medalist. Valencia is the best city for expats in terms of healthcare. Leisure opportunities are a major highlight here, and the city ranks first in terms of its recreational sports facilities. Mobility is also not a problem: it is easy to get around on foot or by bike, and public transportation is affordable.
Although the Spanish capital did not make it into the top five, it was still highly rated by experienced expats. Madrid is loved for its culture. The city also received high scores in the digital life index due to high-speed internet access and unlimited access to online services. Public transportation and healthcare are considered affordable, and the city even rises to the top of the ranking in terms of leisure opportunities, culture, and nightlife.
The worst cities in Europe to live and work in
1. Milan
2. Rome
3. Hamburg
4. Berlin
5. Dublin
Milan received the most negative feedback. Foreigners who decide to move to the Italian city do not like it because of the bureaucracy, the difficulty of opening a local bank account and obtaining a visa. Three out of five respondents admitted that it is difficult to find housing in Milan, as well as a job without knowledge of the Italian language. The results are not much better in the Working Abroad index, where the city also ranks last in the top five worst. Milan ranks last in terms of job security and a sense of fair pay.
Berlin, Dublin, London, and Paris come after Milan, Rome, and Hamburg, Germany. Well, Berlin, according to the respondents, is one of the most difficult places for expats to live, where they find it difficult to find a full social life, and its residents are ranked second with the least friendly attitude.
Dublin offers excellent career prospects for expats, but this is overshadowed by the high cost of living and the inaccessibility and poor quality of healthcare. In London, nearly three out of four expats struggle with the overall cost of living, compared to only 35% globally. Almost half of them say that their disposable family income is not enough to live comfortably in the UK capital.
Expats like the thriving cultural platform of Paris. However, they find it unfriendly, difficult to live without language skills, and extremely expensive.
As OBOZ.UA wrote, the main cities of European countries attract travelers with their mysterious mood and uniqueness. From majestic architectural masterpieces to cozy streets and from exquisite artistic treasures to unique cultural heritage, we have compiled the top of the most beautiful capitals in Europe, which you can find in the article.
Only verified information is available on our Telegram OBOZ.UA and Viber. Do not fall for fakes!