Trending:
Paris has been attacked by bedbugs: they are crawling in public transportation, movie theaters, and hospitals. How France is solving the problem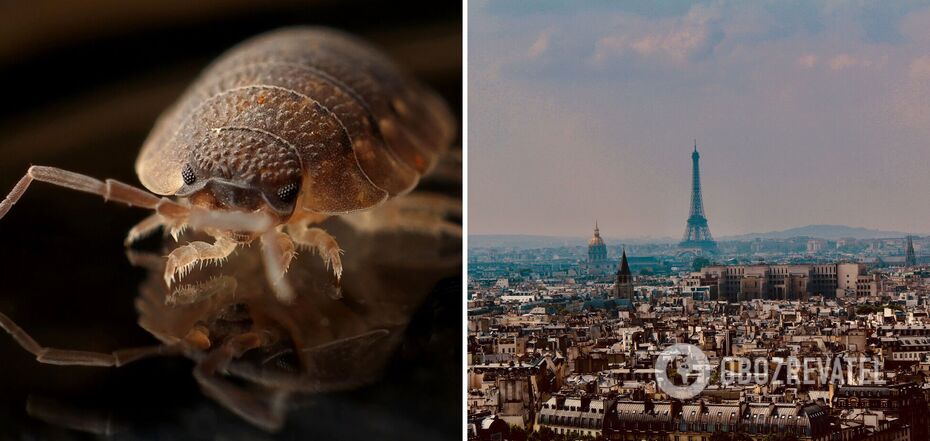 Bedbugs have always been a problem in France, but now the situation has worsened
On the eve of the 2024 Olympic Games, which will be hosted by the French capital, Paris was attacked by bedbugs. The insects are found in large numbers in transportation, cinemas, and even medical facilities.
This was reported by EuroNews. Outraged locals and visitors to the city have been posting videos on social media showing insects crawling on seats in subway cars and buses. The parasites were even spotted at Charles de Gaulle airport.
The problem of bedbugs is not new to France: according to official data, one in ten French families has the parasites in their homes. Fighting insects requires considerable costs - just treating a room costs several hundred euros.
By the middle of the last century, the country had managed to get rid of the problem, but now bedbugs are increasingly being spotted in French cities. According to scientists, bedbugs have returned due to an increase in population density and the spread of public transportation.
French trains and their bedbug conductors
Last week, a passenger on a TGV train from Marseille to Paris informed a train worker about the presence of bedbugs. According to Le Parisien, the passengers in the car were informed that they could request a refund for their tickets. Two more complaints were received the same week on other SNCF trains.
The train operator assured Le Parisien that it conducts regular pest control treatments and has no confirmed bedbugs on its trains in recent months.
Complaints are not limited to SNCF trains. Last Friday, a passenger traveling with low-cost train operator Ouigo posted a video of a bedbug-like insect on her seat.
It was accompanied by a signature: "Ouigo, don't forget to disinfect your trains, thank you."
The problem has even spread to the Paris metro: Le Parisien reports that on Wednesday, a driver noticed the presence of bedbugs in his cabin.
They have also reached movie theaters
Last month, a social media user reported bedbugs in a Parisian UGC movie theater, which caused panic on the Internet. After visiting the cinema in the 12th arrondissement of the city, the visitor posted photos of bites on his body, allegedly received while watching a movie there.
The cinema later issued an apology to customers via a press release on X (formerly Twitter), stating that they had performed the steam treatment at high temperatures.
The cinema did not offer customers a refund because it was "difficult to determine the origin of the bites."
Similar reports came from other cinemas in the city, according to Le Figaro newspaper.
The danger of bedbugs
Although bedbugs do not spread disease, their bites can cause itching and discomfort, and the insects spread quickly. Dealing with an infestation can be difficult and expensive. Bites often cause psychological stress, sleep problems, anxiety, and depression.
Where they come from
Three years ago, the French government launched a bed bug campaign that includes a dedicated website and information hotline as the number of these insects has skyrocketed.
But Paris Mayor Emmanuel Gregoire said that despite this plan, "with 3.6 million people arriving in Paris every day, bedbugs don't stop at the outskirts of the city."
"This is mainly due to the movement of people, the travel of the population, the fact that people stay in short-term accommodation and bring bedbugs in their suitcases or luggage," Johanna Feit of Anses' risk assessment department told CNN. She added that there has been an "escalation" in numbers as bedbugs become increasingly resistant to insecticides. "We are seeing more and more populations of bedbugs that are resistant, so there is no miracle cure to get rid of them," Fite said.
French Health Minister Aurélien Rousseau also rejected the idea that the rise in bedbugs is linked to immigration. "It has nothing to do with immigration, it has to do with movement, when you come back from abroad, you can bring bedbugs with you," he told French Inter radio.
Insect control in France
In a letter addressed to Prime Minister Elisabeth Born, the Paris mayor's office called for measures to combat the bed bug problem in the city, Le Monde reports.
"Bed bugs are a public health problem and should be reported," the deputy mayor wrote, "The state must urgently bring together all stakeholders to deploy an action plan as the whole of France prepares to host the Olympic and Paralympic Games in 2024.
To prevent the problem from spreading on trains, SNCF says it carries out regular thorough cleaning and pest control procedures, including the use of traps and insecticides in hard-to-reach areas.
Preventive treatments are usually carried out every 60 days, the France Inter radio network said, but after recent reports, they have increased inspections to every 15 days for at least the next month.
If reports of pests on a particular train are confirmed, it will be suspended until the problem is fixed, SNCF added.
Earlier, OBOZREVATEL wrote about how a beach in Australia was covered with mysterious alien-like creatures.
Only verified information is available on the Obozrevatel Telegram channel and Viber. Don't fall for fakes!