Trending:
NASA's Martian helicopter captured video of an unknown object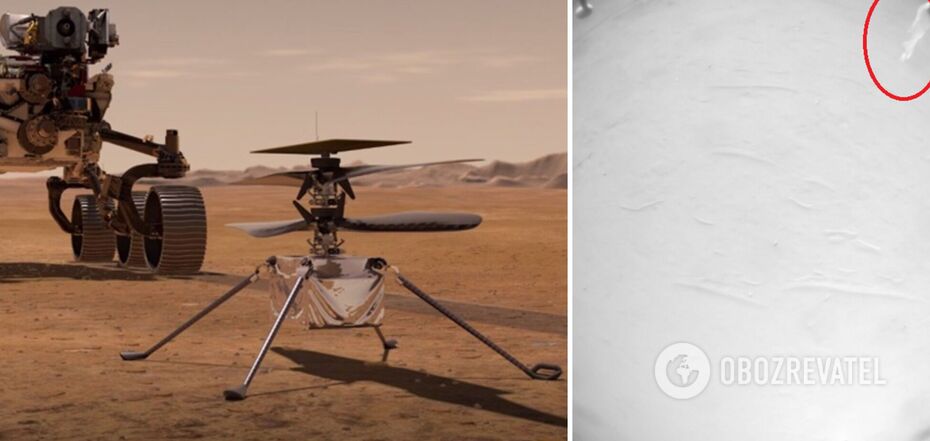 A mysterious object fell from a drone rack
The unmanned helicopter Ingenuity, which NASA sent to Mars along with the Perseverance rover, has already surpassed the plans of its designers. On September 24, it made its 33rd flight over the surface of the Red Planet. And, as usual, it took several pictures. They showed something unusual.
According to NASA, a "foreign fragment" fell off the drone and landed on the surface. Scientists are now trying to find out what exactly this object was. Judging by the footage, it fell from the Ingenuity support, although technical data shows that the device itself was not damaged.
Moreover, the mysterious object fell off some time after the launch, but this had no effect on the flight itself. The drone rose to a height of 10 meters and flew 111 meters, which took 55.2 seconds. The plan for several previous Ingenuity flights looked similar.
After analyzing the movement of the unknown object, NASA noted that it was hardly a natural object for Mars. Rather, the fragment resembled a piece of paper or plastic. So, most likely, it is indeed some part of a helicopter, rover or some other related equipment.
Perseverance and Ingenuity are currently in a part of Mars where there is a certain amount of debris of Earthly origin. For example, a few months ago, the drone recorded the wreckage of the landing sled that brought it and the rover to the surface of the Red Planet. In addition, the engineers assume that some of the materials used to make the helicopter may be degrading, as it has already reached the end of its useful life - Ingenuity was built to accommodate a small number of experimental flights. Currently, they are trying to establish the origin of the mysterious fragment.
As reported by OBOZREVATEL, in June, the rover found a piece of material of obviously terrestrial origin that resembled a candy wrapper.