Trending:
NASA has serious problems with priceless samples of the asteroid Bennu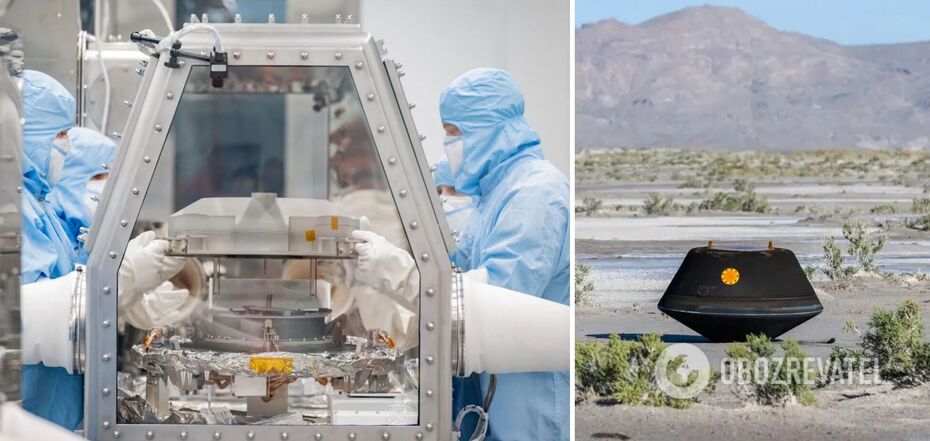 The specialist's tools were insufficient to open the capsule with samples from the asteroid. Source: NASA/collage OBOZ.UA
NASA scientists have discovered a significant problem when trying to open a container with samples of the asteroid Bennu, which was delivered to Earth as part of the OSIRIS-REx mission. It turned out that 2 out of 35 fasteners could not be removed using the available tools.
The Futurism publication tells about the incident. At the same time, NASA's mission to return samples from the asteroid has already become a success in itself.
Preliminary analysis of samples found outside the main storage container revealed that the asteroid's material is rich in both water and carbon. These findings support the theory that space rocks like Bennu could have played an important role in the development of life on our planet.
However, when the scientists, encouraged by their initial success, tried to get inside the container, called the Touch-and-Go Sample Acquisition Mechanism (TAGSAM), which holds the lion's share of the samples, they found that it would not be so easy.
According to NASA, the OSIRIS-REx team found that "two of the 35 fasteners on the TAGSAM head cannot be removed with current tools authorized for use in the 'box.
Earlier, OBOZ.UA reported that the asteroid Dimorphos, which was hit by NASA, began to behave chaotically and is probably falling.
Subscribe to OBOZ.UA channels in Telegram and Viber to keep up with the latest events.