Trending:
Madonna, Cher, Versace: 5 stars aged 50+ who dress like teenagers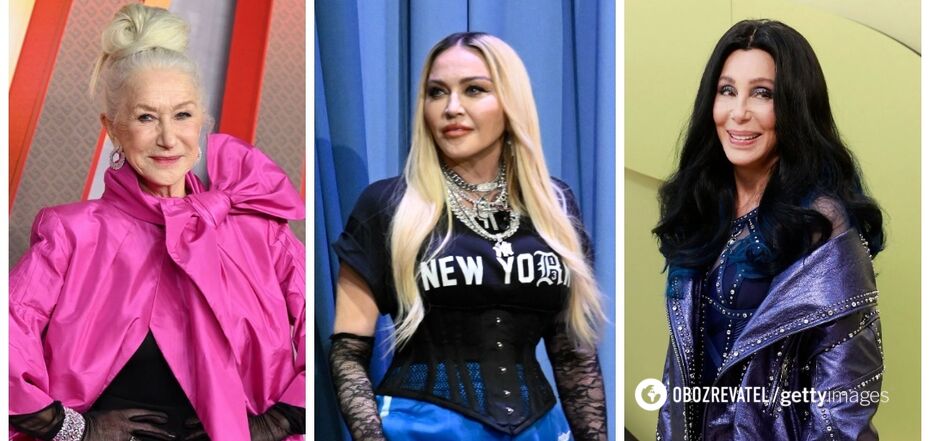 Celebrities who break stereotypes about clothes for women 50+.
In recent years, couturiers have changed their approach to fashion. They no longer divide things into categories "for young people" and "for the older generation". These boundaries are blurred. Now women can wear whatever they like: clothes that make them feel most attractive, bright and confident.
Thus, stars over 50 are increasingly abandoning strict jackets, coats and maxi dresses in favor of baggy sweaters, cropped jackets or brightly colored items. In other words, they wear what young people and even teenagers wear. At the same time, the famous beauties feel real! Read the OBOZ.UA article to find out which of them breaks the stereotypes about the style of clothing for women aged 50+.
1. Sarah Jessica Parker (58 years old)
American actress, producer, and model Sarah Jessica Parker wears no less bright and extravagant clothes in real life than her character Carrie Bradshaw from the TV series Sex and the City. The celebrity often walks the streets wearing dresses with lush bows or mesh inserts, lavender or bright green suits, and even colorful tights. Sarah is clearly a fan of the kidcore aesthetic.
2. Donatella Versace (68 years old)
Italian fashion designer, chief designer of the Versace fashion house, Donatella Vers ace is also in no hurry to throw out the things that are mostly worn by young people. These are tennis skirts, mini-dresses and short shorts, sequined outfits, patent leather boots or high-heeled shoes, for example. We must admit that her figure looks amazing in these things. You wouldn't even know that Donatella is 68 years old.
3. Madonna (65 years old)
At 65, American singer, dancer, actress and producer Madonna seems to have no plans to revamp her wardrobe. After all, her outfits are not much different from those at the beginning of her career. It is clear that the artist likes to feel young and attractive. Madonna wears hoodies with inscriptions, T-shirts with colorful prints, futuristic accessories, chunky sneakers, and even translucent tops. You must admit that not all young people would dare to wear such immodest looks. But the singer did!
4. Cher (77 years old)
The American singer, songwriter and actress Cher loves to wear short dresses, cargo pants with a biker jacket, rhinestone T-shirts and even so-called "naked" dresses (mesh or translucent). This is her style not only for public appearances, but also for ordinary walks. She looks harmonious and attractive in every look because she follows her own desires, not stereotypes.
5. Helen Mirren (78 years old)
British theater and film actress, producer and director Helen Mirren rarely wears black and beige total looks. She mostly wears bright clothes: bright red ballet flats, yellow sweaters, bright blue or green coats, pink sequined dresses or blouses with big bows. These things make the celebrity look much younger than their actual age, which is commendable.
Earlier, OBOZ.UA wrote about Paris Hilton, Celine Dion and other Hollywood stars who dress beyond their years.
Only verified information is available on the OBOZ.UA Telegram channel and Viber.Do not fall for fakes!