Trending:
Like two peas in a pod: children of Ukrainian stars who look like star moms. Photo comparison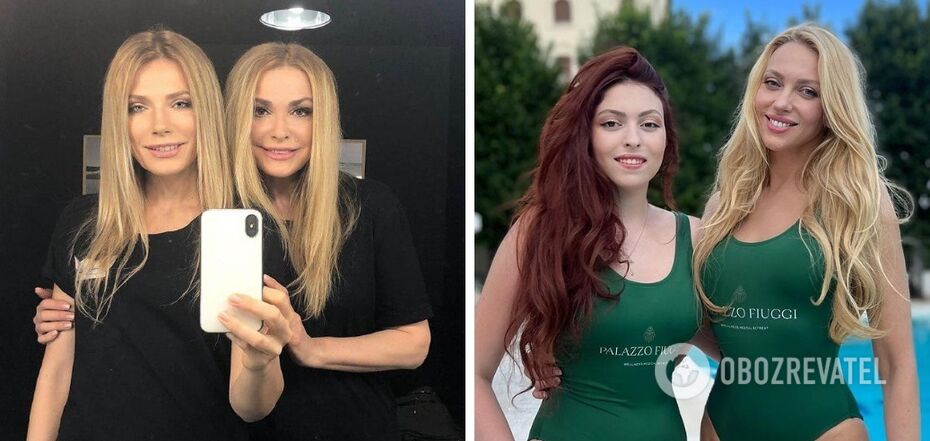 Olha Sumska and Olya Polyakova with their daughters.
Sometimes it seems that genetics is lazy. When creating a child's appearance, it presses "copy&paste". And it takes the data of one of the parents. For example, the mother. And only then makes minor changes: a slightly different nose, eye slit, etc.
There are many Ukrainian celebrities who are proud of their strong genes. After all, their daughters are extremely similar to them. Read the OBOZ.UA article to find out who these lucky people are.
1. Olya Polyakova and her daughter Maria
Ukrainian singer, actress, blogger and TV presenter Olya Polyakova has two daughters. The younger one, Alisa, is often called a copy of her father. But the eldest, Masha, has clearly taken more traits from her mother. Especially if you look at the photo of the artist at the age of 16. Look, they have almost the same eye slit, eyebrow shape, and face oval. It's not just their looks and genetics that unite them, but also their hobbies. Masha has already begun to take her first steps in her singing career.
2. Vera Brezhneva and her daughter Sonya
Ukrainian singer, actress, and TV presenter Vera Brezhneva is the mother of two daughters, Sara and Sonya. The eldest, Sonya, whom the artist gave birth to from politician Vitaly Voichenko, is 22 years old. She looks just like her mother: slit eyes, long legs, lush hair and a radiant smile. The girl, like Vera, is also interested in acting in movies and modeling.
3. Olena Kravets and her daughter Masha
If you didn't know that Ukrainian comic actress Olena Kravets and Masha Kravets are mother and daughter, you might think they were sisters. Masha inherited all the best from her mother: her smile, slit eyes, oval face, and expressive cheekbones. No doubt, this lady will be able to take her place on the star Olympus: she spends a lot of time dancing, traveling and actively developing her Instagram page.
4. Olha Sumska and her daughters
The daughters of Ukrainian actress and TV presenter Olha Sumska both resemble their mother. The older one, Tonya Paperna, who lives in Russia and does not speak out about the war in Ukraine, is almost Olga's twin sister. But the younger one, Anna Borysiuk, seems to have borrowed more features from her father. However, if you look at Sumska's archival photos, you can see that she has a lot in common with her.
5. Ruslana and her mother
Ukrainian singer, pianist, and dancer Ruslana is a copy of her mother, Nina Arkadievna Lyzhychko. You can see this by looking at the Christmas photos that the artist posted on her Instagram. It is a pity that there are no photos of Nina Arkadievna when she was younger. Maybe you would notice even more similarities between her and her daughter.
Earlier, OBOZ.UA wrote about 5 beautiful daughters who look like their famous fathers.
Only verified information is available on the OBOZ.UA Telegram channel and Viber. Do not fall for fakes!