Trending:
Like fluff: lush and airy buns with apples and nuts on a perfect yeast dough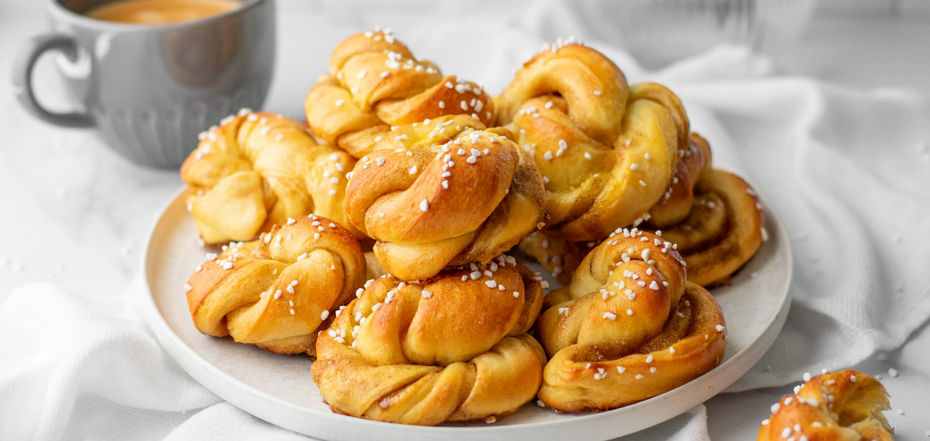 Recipe for buns. Source: skandibaking.com
Homemade buns can be made with different doughs, even lavash, puff pastry, and phyllo dough. But if you are making yeast dough, it is better to use wet yeast rather than dry.
Cook Polina shared a recipe for fluffy and fragrant buns with apples and nuts on Instagram.
Ingredients:
warm milk - 120 ml
sugar - 1 tbsp
live yeast - 20 g
egg yolk - 1 pc
flour - 230-250 g
butter - 50 g
The filling:
apple - 3 pcs
cinnamon - 1-2 tsp
butter - 20 g
walnuts - 60-70 g
sugar - 2-3 tbsp
flour - 2 tbsp
Method of preparation:
1. Dough: add sugar and yeast to warm milk, mix well and add 1 tbsp of flour from the total amount, mix and cover, leave for 10-15 minutes until a loose dough cap forms on the dough.
2. Add the egg yolk, melted butter to the dough and add flour in several stages, knead the elastic dough.
3. Put the dough into a greased bowl, cover and leave to rise in a warm place for 1-1.5 hours.
4. For the filling: melt the butter in a frying pan, add sugar and apples, fry for 5-6 minutes and add cinnamon and nuts. Mix well and cook for 10 minutes, then remove from heat and cool.
5. Mix the dough again with your hands and divide it into 6-7 balls and form them into buns. Put on a baking sheet and cover with cling film (towel), leave for 15 minutes.
6. Then brush with egg yolk and bake in a preheated 180-degree oven for 25-30 minutes.
Cover the still hot buns with a damp towel for 10 minutes!
You can also find more recipes on OBOZ.UA: