Trending:
Kim Kardashian, Drew Barrymore, Kristen Stewart and other stars who sleep with makeup on: why it's harmful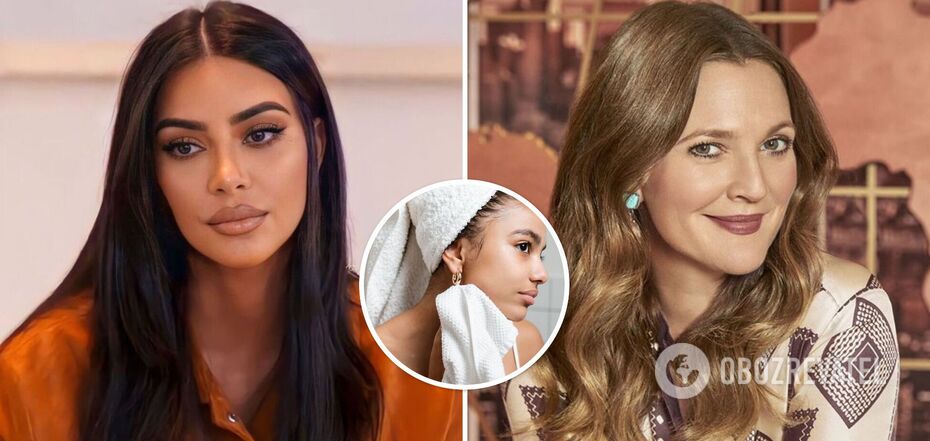 Some stars go to bed without washing off their makeup, but this is harmful to skin repair.
Removing makeup in the evening is truly considered an important step in maintaining a healthy skincare routine. If you skip it, you can wake up with a dull complexion, new breakouts, wrinkles, or even the risk of infection.
However, many celebrities have admitted that they neglect proper skin care and choose to sleep "on the sly" instead. And all in order to look good in the morning, writes the Daily Mail.
The list of eyelash sleepers includes such well-known celebrities as Kim Kardashian, Drew Barrymore, Kristen Stewart, and others. The latest addition to this list is Dolly Parton, who recently admitted that for decades she slept with makeup on every night in case of an "emergency".
Kim Kardashian
The socialite Kim Kardashian has a team of makeup artists who are always on standby. Sometimes, however, the reality TV star prefers to wake up in the morning with makeup on, as she admitted at the 2015 InStyle Awards.
Kim presented the "Makeup Artist of the Year" award to Charlotte Tilbury, who, according to her, was the first to teach Kardashian to wake up with makeup already applied. "She inspired me: when I know I'm going to be too lazy to do makeup the next day, I just go to sleep with it on," Kim explained, according to The Cut. "I know that's probably the worst advice, but I have the right products to put on to make up for it.
Drew Barrymore
Drew Barrymore likes to apply eyeliner before going to bed to have a seductive look the next morning.
"After my evening skincare routine, I line the outer lower lash line with a soft black pencil before going to bed," the actress told Allure. "It sounds a little crazy, but I wake up with perfect smudged eye makeup. I can get out of bed without doing anything at all and get compliments on my makeup," she says.
Kristen Stewart
Actress Kristen Stewart is known for her smokey eyes and tousled hairstyles. The Twilight star admitted to British Vogue in 2014 that she "really doesn't know how" to do her own makeup, and her main products are mascara and black eyeliner.
"I color the top and bottom line with a black pencil and then just smudge it with my finger," she said. "I never wash off my eyeliner or mascara because the next day they look really nice. I don't think I've ever had clean eyes."
Priscilla Presley
Priscilla Presley never went without makeup in front of her husband Elvis during their six-year marriage. "[Elvis] taught me, even in a relationship, to always have a mystery - never reveal all your cards. There are things that you keep to yourself," she said during her appearance on Loose Women.
"I've always had a little bit of makeup on... Men don't want to see what a woman has to go through to get where she is, they want to see the product, the result," Priscilla explained.
Dolly Parton
The 77-year-old Hollywood actress has admitted that she goes to bed with makeup on in case she is unexpectedly spotted by photographers on the streets.
In her new book, Beyond the Stitches: My Life with Rhinestones, Dolly admitted that this habit began in the 1980s. She wrote: "When I came to Los Angeles in the 80s, I started sleeping with makeup on, partly because of the earthquakes." Parton thought: "I'm not going to go out without makeup if there are cameras!"
Even though she sleeps with makeup on, Dolly said she cleanses her face thoroughly in the morning before putting it back on. She added: "It doesn't matter when you wash your face, as long as you do it once a day. After I wake up, I do all the rituals and then start over, so I look good all day."
What harm does sleeping with makeup do to your skin?
Dermatologist Natalie Blakely from the Light Touch Clinic told FEMAIL: "Sleep is a time when our body rejuvenates: cells are renewed. The normal process should allow old skin to slough off."
If you leave your makeup on overnight, your skin will become less capable of rejuvenation. So when you wake up, your skin will be dirty and dull.
"When we don't wash off the foundation, the pores are likely to become clogged and the skin prone to spots and blackheads," the expert adds.
In addition, not cleansing your face before bed can lead to premature aging. "Clean, fresh skin rejuvenates much better than dirty and clogged skin because of the exfoliation of skin cells," she explained. "The nighttime rejuvenation that occurs during sleep is vital to our aging process. When we sleep, our stress hormone cortisol decreases."
Earlier, OBOZ.UA wrote about the perfect lip color, according to makeup artists, which is worth trying this fall.
Only verified information is available in our Telegram channel OBOZ.UA and Viber. Don't fall for fakes!