Trending:
"If Polyakova gave money to the army, it's okay": Ukrainian Armed Forces soldier comments on the high-profile wedding of the former prosecutor in Lviv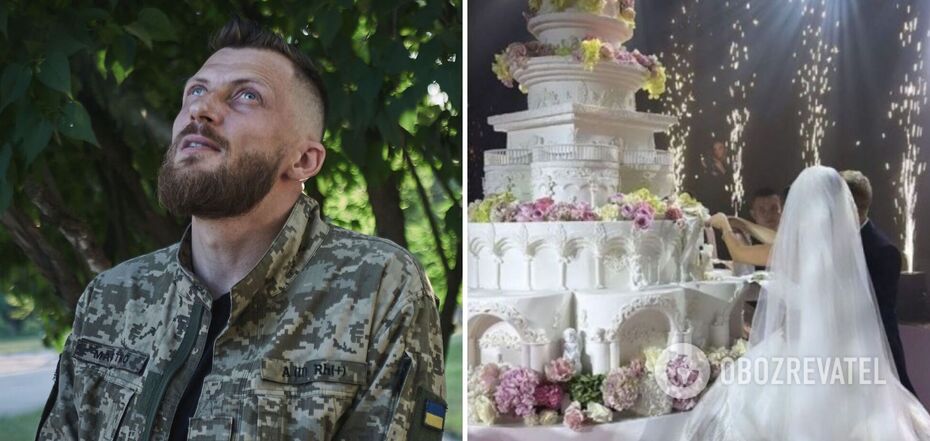 Musician-warrior Oleksandr Remez comments on the scandal with the lavish wedding of the former prosecutor
Kharkiv-based musician Oleksandr Remez, frontman of the Kyiv-based band RvB, who is currently serving in the Armed Forces of Ukraine, commented on the lavish wedding of former prosecutor Rostyslav Ilnytskyi and State Bureau of Investigation employee Roksolana Moskva in Lviv. The serviceman did not condemn the artists who performed at the scandalous banquet.
The vocalist shared his opinion in an interview with blogger Bohdan Bespalov in cooperation with OBOZ.UA. He also said that artists' fees are now much lower than before the full-scale war, so everyone is grabbing the opportunity to make money.
To recap: Oleksandr Ponomarev, Dzidzio, Olya Polyakova and other celebrities recently got into a loud scandal because of a lavish wedding of former officials, which was popularly dubbed the "feast of the plague." Singer Olya Polyakova commented on the situation, calling herself Robin Hood, and said she dreams of working in a country where the state is responsible for its employees.
Oleksandr Remez believes that such situations have many nuances. The musician admits that he has never followed Polyakova. "Maybe she supports our army. Then it's okay. In general, I understand that now artists have much less money than they could have had before the full-scale war," the military man says.
He also realizes that artists today are grabbing every opportunity to make money. "So, of course, if you get this opportunity, you say: "Oh, I'm finally going to make money!". And then I don't know what they'll spend it on, but I think it's a question for the organization," the musician adds.
Oleksandr says that a lot of money goes through dirty means. However, he believes that this system is very difficult to change, so everyone is responsible for their actions. "When you receive this money, what you do with it is a matter of personal responsibility," the soldier explains.
Read the full text of the interview with Oleksandr Remez on OBOZ.UA on Tuesday, October 24.
Earlier, OBOZ.UA wrote about why Oleksandr Remez was disappointed with singer Serhiy Babkin and his position after the full-scale invasion. The musician also named colleagues he admires.
Only verified information on our Telegram channel OBOZ.UA and Viber. Don't fall for fakes!