Trending:
How to quickly clean the inside of a microwave oven from grease: 3 of the most effective home remedies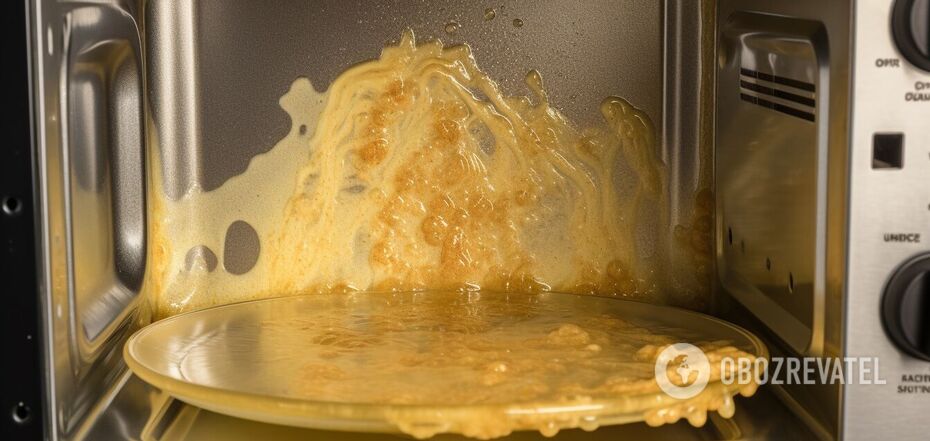 How to clean a microwave oven
A microwave oven is an essential item in the kitchen, thanks to which you can heat food to the desired temperature in a matter of minutes, and it can also defrost meat and fish. But, very often, grease accumulates in it, which is difficult to clean with detergents.
The FoodOboz editorial team shares the 3 best home remedies that will help you clean microwave grease very quickly and effectively.
Vinegar
This is a great grease remover and it is very well suited for cleaning the microwave oven. You need to mix table vinegar and water in equal amounts (if the dirt is not very dirty, then you can pour less vinegar), put it in the microwave and heat the solution for 5-7 minutes at high power. Be sure to leave the solution in the microwave for another 15-20 minutes after turning it off so that the hot steam softens the fat well. After that, rinse the inside surface thoroughly with clean water and wipe it with a dry cloth.
Baking soda and vinegar
Mix baking soda and vinegar, apply it to the stains and leave it on for 30 minutes. Then rinse off with water and wipe dry.
Lemon and water or citric acid
Squeeze the juice of one lemon into a glass of water; if there is no lemon, add 2 tbsp of citric acid to the water, heat the resulting solution in the microwave at maximum power for 5-7 minutes and leave it for another 10 minutes. After that, wipe the microwave oven well with a cloth.
Lemon juice will not only remove grease, but also remove unpleasant odors!
OBOZ.UA also reported on how to bake food in the sleeve to keep it healthy.