Trending:
How to make delicious potatoes for dinner in a new way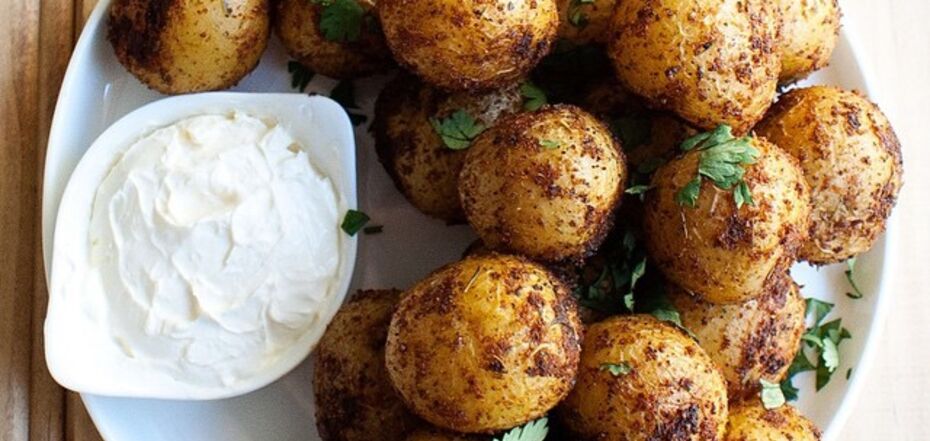 How to bake potatoes deliciously. Source: thefeedfeed.com
Potatoes are a very healthy and budget-friendly vegetable that can be boiled, baked, roasted, and added to salads. To ensure that the potatoes are soft on the inside and crispy on the outside when baked in the oven, they should be boiled until half cooked.
Cook Olha shared a recipe for baked potatoes with sauce for a hearty and simple dinner on Instagram.
Ingredients:
potatoes - 11 pcs.
olive oil - 5-6 tbsp.
smoked paprika - 1/2 tsp.
dried garlic - 1/2 tsp.
spices for potatoes - 1/2 tsp.
salt - a pinch
For the sauce:
sour cream - 150 g
pickled cucumbers - 1.5 pcs.
garlic - 3-4 cloves.
salt or soy sauce - to taste
Method of preparation:
1. Wash potatoes well and boil in salted water until tender.
2. Then put them on a baking sheet and press them down with a glass.
3. Mix olive oil, salt, potato spices, smoked paprika, and dried garlic. Spread this mixture on each potato. Bake for 35 minutes at 220 C.
4. To make sauce, add garlic, salt or soy sauce, and finely chopped pickled cucumbers to sour cream and mix everything.
You can also find recipes on OBOZ.UA: