Trending:
How to improve battery performance in Android smartphone: top 6 tips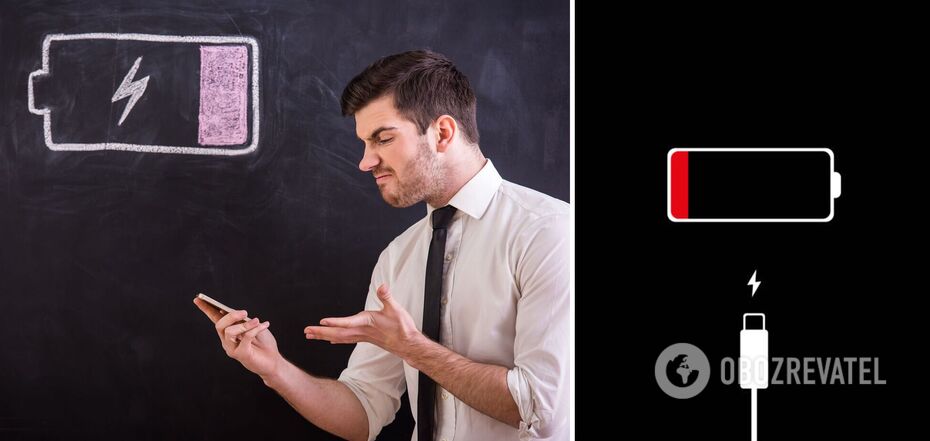 How to improve battery performance in Android smartphone: top 6 tips
In recent years, smartphones based on the Android operating system have made great strides forward, as has the OS itself. Of course, the popularity of the OS is due to the fact that Android is the base for dozens of smartphone manufacturers, which allows users to choose exactly the gadget they dreamed of and at the desired price. Equally important is the huge number of free applications that can be installed on the OS.
However, while the overall power of smartphones and the Android OS itself is growing, there remains a weak link in the form of the gadget's battery. After all, few modern smartphones can boast of the battery life that was available in mobile phones a decade ago.
Of course, huge screens and technologies that one could only dream of before are unlikely to allow a smartphone to have a battery life of 7-10 days, but users can still help ensure that the battery does not run out before their eyes. OBOZREVATEL explains how this can be achieved.
Remove branded junk
Almost all popular brands of Android smartphones abuse the openness of the OS by creating clones of existing apps with their own flavor. In most cases, users never even open them, using standard Android features. Nevertheless, these apps still remain installed on the smartphone, taking up space and draining the battery with background updates and improvements.
So the obvious solution is to go into the settings and uninstall all this junk. Yes, unfortunately, it is simply impossible to delete all of them, as the developers did not provide such a feature. But you can still limit their background updates.
Another problem with smartphones is affiliate programs such as Microsoft Office, PowerPoint, Excel, and OneDrive. How many times have you ever opened any of them? The same happens with the overly intrusive integration of Meta services: we are talking about Facebook, Services, App Installer, and Meta App Manager. Any of them can be safely discarded. Yes, even Facebook, which has long been known for its battery hogging. Instead, it is better to use Facebook Lite or access the social network through a browser.
To clear your smartphone of junk, open Settings and go to the Applications submenu. Then uninstall or disable everything you don't need.
Get rid of various Battery Savers
Unfortunately, most third-party apps that promise to optimize your battery life will only delight you with pretty animations that make it look like you're doing something active. As much as you might like it, 99% of these apps don't optimize your battery usage in any way.
Yes, such apps can disable programs running in the background. But this is only a temporary action. You can completely disable background updates yourself.
Besides, you shouldn't be surprised by this, as these apps are only draining the battery themselves.
Use optimized apps
If you're interested in a third-party app that might be useful, be sure to check its system data to see if it supports your smartphone and is optimized for your version of Android.
If not, try to find a similar application from another developer that will work much better on your smartphone and won't drain your battery.
Update your Android
If the manufacturer of your smartphone supports it and releases OS updates, never refuse to install them.
Updating your Android always means that the system will run more smoothly and consume less power from your battery. Third-party apps may also start working better after an OS update.
If your manufacturer no longer updates Android, just accept it and follow the other tips.
Use Wi-Fi instead of mobile internet
Yes, it's probably more convenient to turn on your mobile internet and be online wherever it's convenient for you. But the mobile network has a very strong impact on the battery on its own, and when you also turn on the mobile Internet, everything gets worse. Therefore, it is optimal to use free Wi-Fi where it is available.
But there's a catch. Keeping Wi-Fi on while you are outside is also not the best idea, as your smartphone will constantly try to find a free network and connect to it.
Therefore, you should only turn on Wi-Fi outdoors when you need the Internet. Or at least where you know for sure that there is a free network.
Turn off unnecessary features
As it was many years ago, the advice to turn on only when you need to use Bluetooth, NFC, location, mobile Internet, and hotspot remains relevant.
You don't have to turn off everything at once. First, turn off a few of them and see how it affects your battery. During this time, you will also realize whether you really need these functions to be always on.
Earlier, OBOZREVATEL also talked about the golden rule of charging for all smartphones.
Subscribe to OBOZREVATEL' s Telegram and Viberchannels to keep up with the latest developments.