Trending:
How to cook solyanka: a savory dish made from everything in the fridge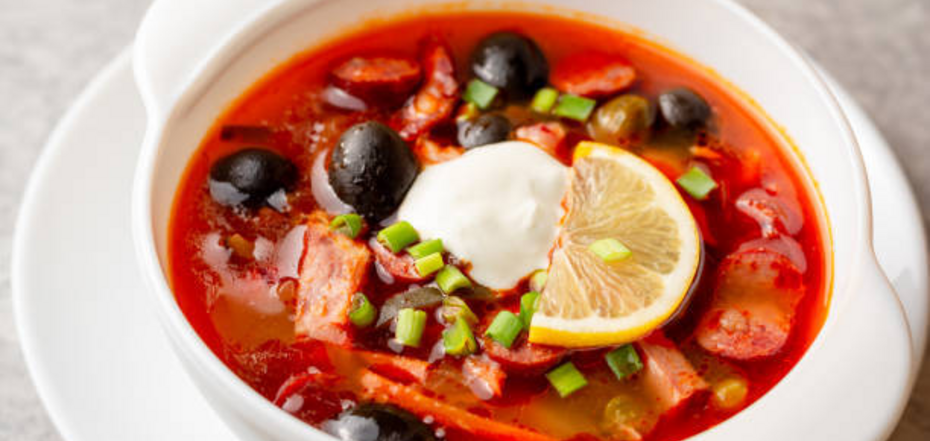 Low-fat and rich solyanka. Source: pexels.com
Solyanka is a delicious and satisfying dish made from meat, pickles, olives, and herbs. To spice up the dish, add garlic, tomato paste, and cilantro.
Cook Anastasia shared a recipe for a hearty and delicious solyanka with meat, olives, and pickles on Instagram.
Ingredients:
Smoked brisket or ribs - 300 g
Smoked sausage - 200 g
Smoked beef - 200 g
Onion - 1 pc
Potatoes - 3 pcs
Pickles - 3 pcs
Garlic - 2 cloves
Tomato paste - 2 tbsp
Used black olives - 100 g (1 jar)
Oil - 2 tbsp
Parsley - 5 sprigs
Brine - 200 ml
Water - 2 liters
For serving:
Method of preparation:
1. Cut all the meat ingredients and cucumbers into strips. Dice the onion and potatoes.
2. Pour oil into a preheated heavy-bottomed saucepan, add the chopped brisket and fry for a few minutes. Add the onion and fry until golden brown. Next, add the tomato paste, pour in the brine, cucumbers, potatoes, cover with water and cook for 20 minutes or until the potatoes are tender.
3. Add garlic, chopped olives + herbs and cook for another 5 minutes. Leave to stand for several hours.
Serve with sour cream and lemon!
You can also find recipes on OBOZ.UA: