Trending:
How to cook juicy chicken fillet: sharing secrets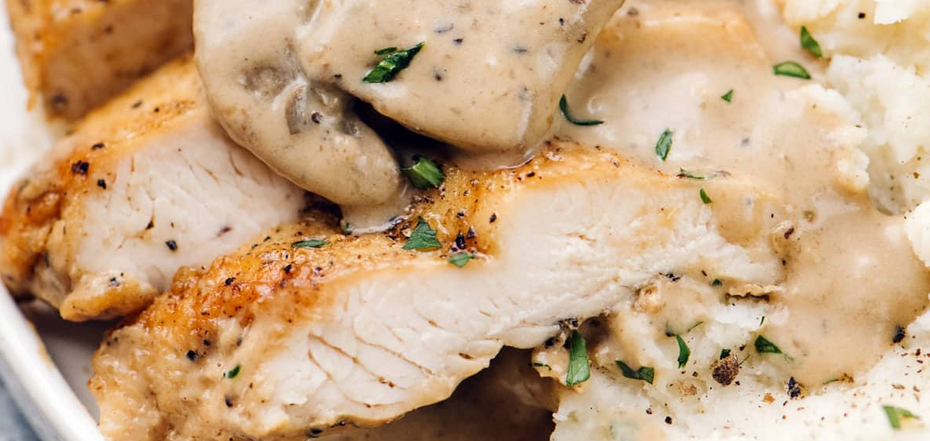 How to cook juicy chicken fillet. Source: thecookingjar.com
Chicken fillet is an ideal product for making cutlets, chops and appetizers. It can be used to make delicious salads, stewed in sauce, and used to make kebabs.
Cook Anastasia shared a recipe for juicy chicken fillet in a creamy sauce with garlic and melted cheese on Instagram.
Ingredients:
Chicken fillet - 3 pcs
Smoked paprika - 1 tbsp
Italian herbs - a pinch
Salt - 1 tbsp (without a slide)
Corn flour - for frying
Oil for frying
Cream sauce:
Cream 33% - 100 ml
Butter - 20 g
Meat broth - 100 ml
Creamy soft cheese - 50 g
Cream cheese - 50 g (it is ideal to use Parmesan instead)
Garlic - 2 cloves
Salt - 1 tsp
Method of preparation:
1. Cut the chicken fillet into 2-3 pieces. Sprinkle with salt, smoked paprika, Italian herbs.
2. Dredge in flour and fry over high heat in vegetable oil until golden brown on all sides, then transfer to a dish.
3. Add butter, cream cheese, broth, cream, grated melted cheese or Parmesan, garlic, squeezed garlic, salt to the same frying pan and mix well.
4. Cut the fried fillet into slices about 1 cm thick. Put the fillets in the sauce and simmer over low heat for 10-15 minutes.
You can also find recipes on OBOZ.UA: