Trending:
How to behave at a corporate party: rules of etiquette not everyone knows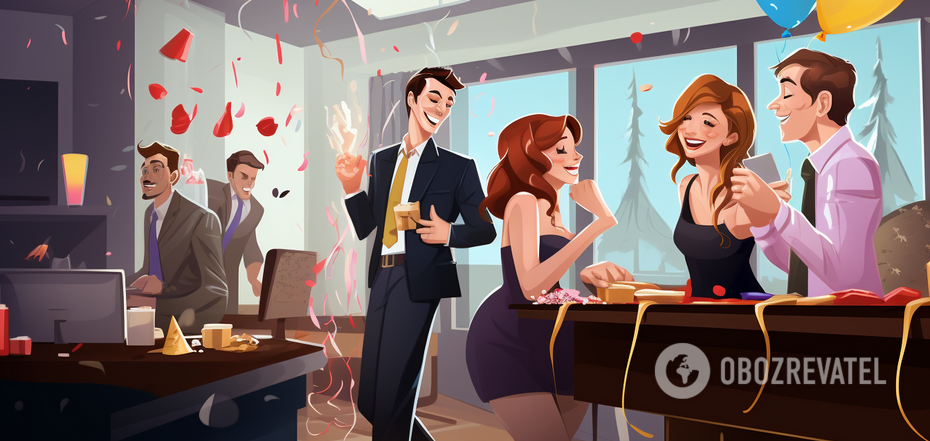 Rules of etiquette at a corporate event
Business etiquette includes not only the rules of negotiation, peculiarities of work correspondence and the nuances of communication with management. It is also important to know how to behave at corporate events and business lunches.
Of course, a corporate event is a time for relaxation and recreation. OBOZREVATEL has collected the most important rules of etiquette that not everyone knows about.
Rule 1
There is a popular joke: when going to a corporate event, remember that you still have to work with these people. Some employees try to avoid corporate events all the time for fear of embarrassment. Etiquette experts say that refusing to attend a corporate event can also affect your reputation. Don't be afraid to show yourself in a funny way. You may not be very good at dancing, but that's okay. A corporate event is a great opportunity to build informal connections, so just be yourself.
Rule 2
A corporate event is informal, but don't keep yourself waiting. Try not to be late. It is at the beginning of the event that the management makes a short speech, and it would be very rude if you burst into the room, interrupting someone's welcoming words.
Rule 3
Remember alcohol etiquette. Drink in moderation. Do not mix drinks and do not drink too much just "for the company." It is when you are intoxicated that it becomes difficult to control your behavior. Then you can do (or say) a lot of stupid things that you will regret later.
Rule 4
Don't start eating until everyone is seated at the table if it's a traditional banquet. Don't put a lot of salads, hot dishes, and appetizers on the plate at once. It's bad manners to put the leftovers into your purse.
Rule 5
At a corporate event, you should adhere to the dress code. It is usually a formal business style. Women are advised to avoid necklines and minidresses. Revealing clothes should be left for other events as you are not here to seduce your colleagues or boss. The rules of the dress code depend on the venue. For country recreation centers, you can choose jeans and a white sweater, but a modest evening dress for women or a classic shirt and pants for men will do for a dinner in a restaurant.
Rule 6
Let's talk about the "plus 1" rule. You can come to a corporate event with your partner only if it is explicitly stated in the invitation. If you ignore it, you will show disrespect for your colleagues and management.
Rule 7
In the era of remote work, colleagues can work for years in the same company, knowing each other only through video communication. A personal acquaintance takes place at a corporate event. Thus, it's worth reminding you of the rules of getting to know each other. You can approach and introduce yourself as follows, "Hi, I'm Olena, an optimization manager. We were talking about a project...". A polite employee will introduce themselves in return.
Rule 8
Colleagues can be close friends, but not always. Remember that a corporate event is held among colleagues, not friends, so it's best to avoid vocabulary that can ruin your business reputation.
Rule 9
Don't act like a gray mouse either. Try not to sit quietly in the corner of the room, ignoring dancing, toasts, and entertainment. Just be yourself and don't hesitate to be present at the party.
Rule 10
It happens that managers allow themselves to completely relax at a corporate party: after drinking too much, they start saying things that are not appropriate. In this case, evaluate the situation: it may be better to leave the event in advance so as not to get caught.
Earlier, OBOZREVATEL spoke about the biggest table mistake that most of us make.
Subscribe to OBOZREVATEL on Telegram and Viber to keep up with the latest news.