Trending:
Greetings from the 90s. What bags will never go out of style and why Prada, Cos, Uniqlo and other brands are betting on them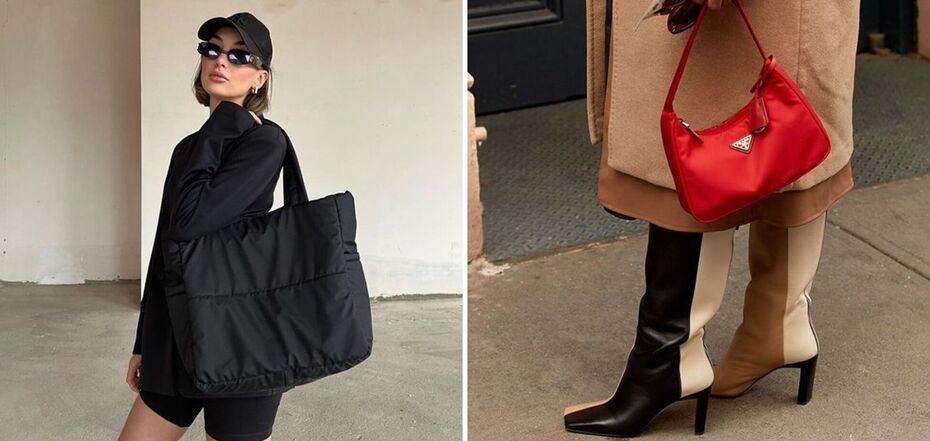 Nylon bags will always remain on the fashion wave due to their functionality and stylish look
It is said that the new is the old long forgotten. This is especially true of fashion trends, which are constantly changing. However, there are some things that have never been forgotten - those that remain relevant beyond time.
Style magazine decided to recall the models of bags that have been forever fixed on the fashion pedestal. For example, the crossbody bag by Uniqlo, which is now famous on TikTok and made of nylon, continues to be sold out for a reason. The crescent-shaped accessory with lots of pockets for storage has received more than 109 million views under the hashtag #uniqlobag on the social network.
The queen of "ugly chic", designer Miuccia Prada has been making nylon bags since 1984. Back then, she turned the idea of luxury and functionality upside down. Nowadays, famous brands from Fendi and Bottega Veneta to Cos, Tory Burch and Longchamp are inspired by Prada's nylon products.
"Back then, I didn't really like what I saw. It all looked so old, bourgeois and boring. I just wanted to find the absolute opposite of what was already there," Miuccia said about the decision to work with utilitarian rather than "luxurious" fabric. "Suddenly nylon started to seem more intriguing to me than couture fabrics. I decided to present it on the runway, and it not only challenged, but changed the traditional and conservative idea of luxury."
Prada is not alone in its commitment. In addition to this viral Uniqlo bag, there is a soft version from the Swedish retailer Cos, which has been a hit with connoisseurs (and has garnered about 23 million views on TikTok).
At the same time, there are other luxury brands that work with this material, such as Bottega Veneta with a soft nylon bag, and Fendi has a nylon baguette bag. The American brand Tory Burch, and the French brand Longchamp, which is well known for its sophisticated Le Pliage leather bags, also offer versions made of recycled nylon.
Sinead Cutts, style director at online retailer The Outnet, says there are several factors behind the revival and popularity of nylon bags. "When it comes to nylon bags, you can still feel the nostalgia of the 90s, and the strength of the fabric makes the bag functional and stylish. Unlike structured leather bags that can be used in your work wardrobe, nylon bags can be easily worn both to work and for every day," she says.
"Oversized models are ideal for everyday life, they can store everything from a laptop, a spare pair of shoes and a sports uniform! Nylon allows you to experiment with bold colors and prints," the expert adds.
Cutts says that these bags are especially suitable for minimalist clothes with a sporty touch. Or you could also go all-in on the timeless '90s trend. "You could totally dive into the '90s trend with cargo pants, a blazer and a sleeveless shirt, and a pair of sneakers," she suggests.
As for the Cutts brand, Sinead says she likes their colorful pop shoulder bags, floral prints, and oversized styles.
Earlier, OBOZ.UA wrote about 7 legendary fragrances that Soviet women hunted for: from Climat to Madame Rochas.
Only verified information is available on our Telegram channel OBOZ.UA and Viber. Don't fall for fakes!