Trending:
Clearly too much: 5 stars who disfigured themselves with plastic surgery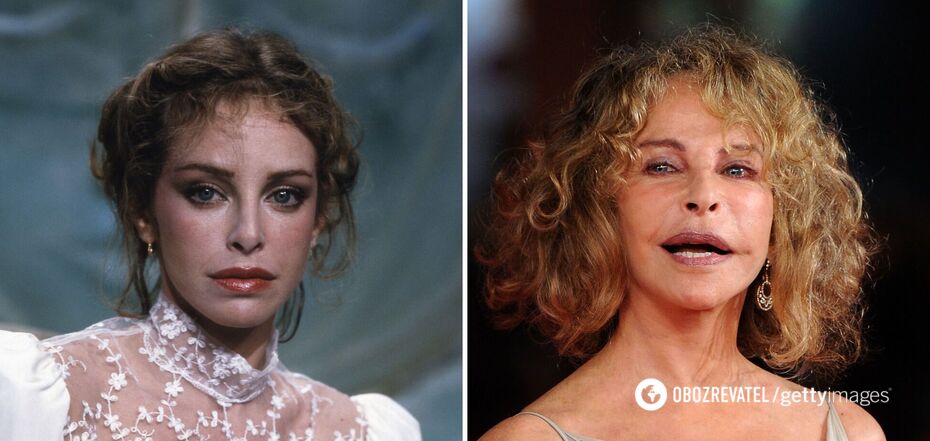 Actress Sidney Rom is fond of facelifts.
Have you chosen the best clinic and a professional surgeon? This does not guarantee that the operation will go perfectly and that you will see pleasant changes in the mirror. Why? Sometimes it happens that the physiological characteristics of the human body "interfere". Then you can forget about the predicted results.
There are many celebrities who have been disappointed by manipulations with their appearance. Now they warn others not to repeat their mistakes. Read more in the article by OBOZ.UA.
1. Emmanuelle Bear
The first visible signs of aging appear more slowly if you take care of your skin from an early age, lead a healthy lifestyle and control your weight. If there are no pathologies, you shouldn't run to a plastic surgeon. It seems that the French actress Emmanuelle Bear did not know this. In her youth, she had a sophisticated beauty that she decided to "correct" at the age of 27 by having her lips enlarged. Then she repeated the procedure several times. In a few years, the tissues deformed, and the lip contour "floated", and there was no trace of the charming smile. Do not do this!
2. Janice Dickinson
The legendary American supermodel, actress and photographer Janice Dickinson is a fan of plastic surgery. She underwent blepharoplasty, Botox injections, lip augmentation, and Bisha lump removal. Especially the latter disappointed the star over the years. Her face lost volume: deep hollows appeared in the lower part of her cheeks, which only adds to her age.
3. Victoria Beckham
British singer, actress and fashion designer Victoria Beckham got breast implants in the early 2000s. To be "better than others," she chose a size four. The celebrity overdid it a bit: her bust began to look artificial and, as a "bonus," put a lot of strain on her spine. When health problems began, Victoria regained her natural shape.
4. Jennifer Grey
The American actress Jennifer Grey became recognizable thanks to her role in the movie Dirty Dancing. Then she decided to conform more to the canons of beauty, and without hesitation went under the knife: she had rhinoplasty and lip augmentation. As a result, her facial features became more symmetrical and harmonious, but changed the star beyond recognition. Obviously, her career did not go beyond supporting roles.
5. Sidney Rom
Italian actress, singer, and model Sidney Roma had distinct aristocratic features in her youth, which made her a star in the 1970s. Back then, she was in serious competition with the American actress Jane Fonda.
Over the years, Sydney became frightened when she noticed the first age-related changes and decided to have a facelift. She didn't stop with one procedure. She had the lift again and again. As a result, she looked like a doll with a tight smile. Nowadays, the model rarely appears in public because she didn't stop in her pursuit of beauty in time.
Earlier, OBOZ.UA wrote about 5 beautiful actresses from Turkish TV series who had plastic surgery.
Only verified information is available on the OBOZ.UA Telegram channel and Viber. Do not fall for fakes!