Trending:
Budget and unusual "Shuba Olivier" salad: we share the most original recipe for a dish which taste will surprise you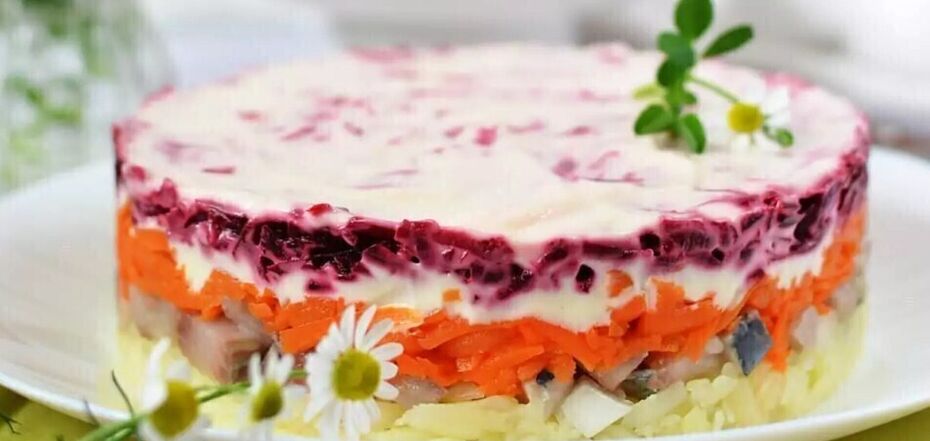 Recipe for ''Shuba''. Source: Cook.me
Fall is the perfect time to prepare hearty, delicious vegetable salads. One such vegetable is beetroot. It can be used to make appetizers, sauces, and salads, among which Shuba takes a special place. But if you're tired of the classic version of this dish, you can add unusual ingredients to the salad, such as pickles and apples.
The FoodOboz editorial team shares a recipe for an original salad that combines two salads - both "Shuba" and "Olivier". The recipe was published on the KUS-KUS YouTube channel.
Ingredients:
beets - 2 pcs
potatoes - 1 pc
herring - 1 pc
pickled cucumber - 1 pc
carrot - 1 pc
sour apple - 1 pc
quail and chicken eggs
Dressing:
yolk - 1 pc
mustard - 0.5 tsp
sugar - 1 tbsp
salt - 0.5 tsp
a few tablespoons of fat sour cream
vegetable oil
lemon juice
black pepper
Method of preparation:
1. Bake the vegetables, peel and dice them.
2. Dice the herring fillet into small cubes, along with the apple and pickle.
3. Cut the chicken eggs randomly.
4. Put all the ingredients in a bowl.
5. Mix all the ingredients for the dressing and blend with an immersion blender.
6. Dress the salad with the sauce, garnish with quail eggs and eat!
You can also find recipes on OBOZ.UA: