Trending:
"Are you used to picking your nose too?" Warrior-musician sharply criticizes Ukrainians with "Russian jaws"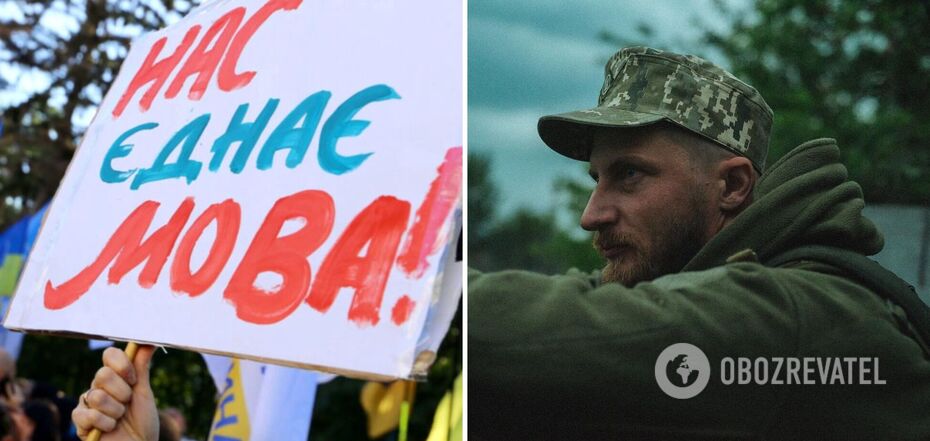 Alexander Remez criticized Russian-speaking civilian Ukrainians
Ukrainian soldier, musician, and artistic director of the Kharkiv-based Cultural Landing, Oleksandr Remez, has spoken out harshly about Ukrainians with a "Russian jaw" who allegedly cannot speak their native language. The artist, who realized the importance of the language issue after a full-scale invasion and injury, calls for Ukrainian citizens to renounce the enemy language.
Russian is very common at ground zero, and it happens that defenders from the western regions of the country deliberately switch to it to make it more convenient for their comrades. However, Oleksandr Remez does not believe that a similar situation should exist in non-frontline cities. He spoke about this in an interview with blogger Bohdan Bespalov in cooperation with OBOZ.UA (to see the photo, scroll to the bottom of the page).
Until 2022, the soldier lived by the common principle of adjusting to the interlocutor. "They speak to me in Russian, I speak in Russian; they speak to me in Ukrainian, I speak in Ukrainian," the singer explained. He has not written a song in an enemy language for about 8 years.
"I spoke Russian with my comrades because of the stressful situation. I also had to think there... But when I got to the hospital after being wounded, I started speaking Ukrainian. I set a goal to never switch to Russian again! All Ukrainians will understand Ukrainian, even if they don't speak it. I will not switch to Russian and that's it," Remez said.
The musician believes that switching to their native language is the least that civilian Ukrainians who are not fighting on the front line and have the opportunity to learn, practice and experience the Ukrainian language and culture in relatively peaceful regions can do.
"I'm in Kharkiv now and I see how many people don't even think about it. They think it's not worth bothering... Of course, we were not attacked because of our language. But when I learned the historical fact of why we spoke Russian, I did not want to continue. I realized that in a sense it was a victory for Russia, and I didn't want to give them a victory. It's cool to make your own choices and not hide behind a "habit". Can't a person make a choice? You can get used to picking your nose all your life and do it all the time, without pulling out your finger and saying, "I'm so used to it!" the singer explained.
He added that many years ago he started writing in Ukrainian, but for that he had to read at least five books in Ukrainian. That's how the Kharkiv resident discovered Ukrainian writers and poets, who, in his opinion, are better than Russian authors.
Read also on OBOZ.UA an interview with the star of the movie Dovbush, Oleksiy Hnatkovsky, about how Russians differ from Ukrainians and why it is most important to protect what is ours.
Only verified information is available on our Telegram channel OBOZ.UA and Viber. Do not fall for fakes!