Trending:
Anorexic TikTok star confuses fans with new videos: what a 29-year-old girl looks like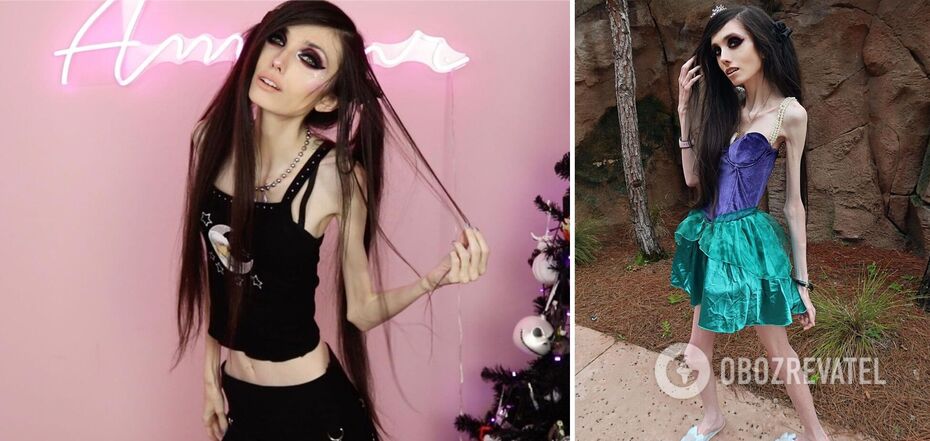 Eugenia Cooney confused her fans with new videos
Famous American blogger Eugenia Cooney, who suffers from anorexia, shared new videos with her 2.6 million TikTok subscribers. Her fans were seriously concerned about her health. The fact that Eugenia, who is 180 centimeters tall, weighs about 38 kilograms is certainly not news to her followers. However, they thought that the influencer looked particularly frail and exhausted in the latest videos.
Internet users assumed that the blogger was forced to shoot the videos and not to overeat by her mother. With such assumptions, people from all over the world flooded the Greenwich police station with calls from people concerned about the girl's condition, TMZ reports (to see photos and videos, scroll to the bottom of the page) .
This is not the first time that the 29-year-old American has made fans concerned about her health. However, in recent days, there has been a particular surge in attention to her. In the new videos, Eugenia, as always, dances to the music in extravagant, colorful outfits. However, it seemed to her subscribers that she was doing it with difficulty and not by choice.
Greenwich police sergeant Brent Reeves told reporters that the concerned callers wanted to make sure the blogger was okay and that her mother was not forcing her to create content and "keep up her appearance."
Reeves assures us that there is no reason to worry. He has known Yevhenia for more than ten years and has a trusting relationship with her. According to the sergeant, he and the blogger had a code that signaled that the girl needed help: she would put a pre-arranged object on the video so that he would know that she was okay. If the object was not there, then, according to the police officer, he realized that the social media star needed help.
The sergeant added that he had a conversation with Yevhenia the other day, during which she was in her right mind and did not complain about her condition.
Meanwhile, commenters continue to write concerned messages under the videos. In addition, they criticize the girl for her content, accusing her of promoting excessive unhealthy thinness.
"Some people say I'm a bad influence on girls. I just want you to know that I have never seriously tried to be a bad influence on anyone. I would never want to do that. I've never told anyone to try to lose weight, or change their appearance, or look like me," Cooney has previously responded to critics.
Moreover, at one point, a petition was even created online demanding that she be banned from YouTube for "promoting morbid thinness." The petition was later removed.
Earlier, OBOZ.UA also wrote about famous stars who were on the verge of anorexia. The list includes Angelina Jolie, Victoria Beckham and others. Follow the link for details.
Only verified information is available on the OBOZ.UA Telegram channel and Viber. Do not fall for fakes!