Trending:
An explosion and fire break out in the Russian city of Bryansk. Photo and video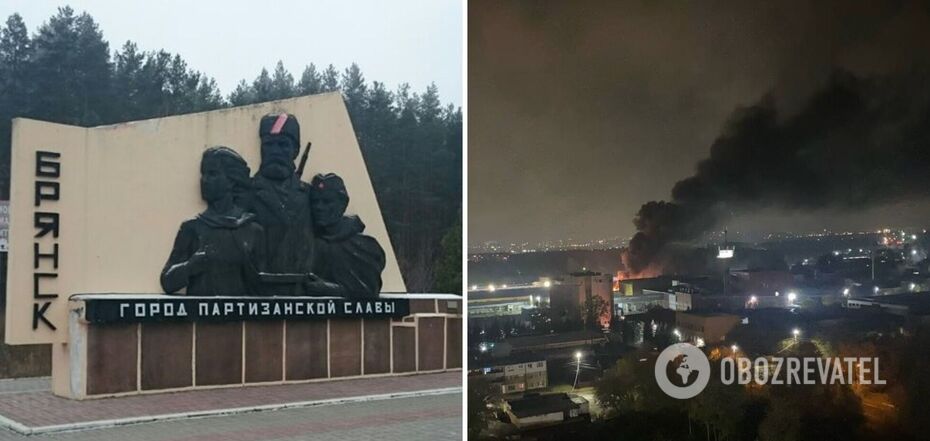 Explosion and fire break out in Bryansk, Russia
On the night of Friday, October 13, an explosion occurred in Bryansk. A massive fire broke out near a meat processing plant, and Russian propagandists claimed that the Ukrainian Armed Forces had attacked a construction complex and a chemical plant.
According to local Telegram channels, citing sources, the fire was caused by theUAV fall. Russian media stated that the drone had crashed on the outskirts of Bryansk, and an explosion occurred during the fall.
The fact was confirmed by the governor of the Bryansk region, Alexander Bogomaz.
He reported that a "Ukrainian drone " was allegedly shot down near Bryansk, which exploded during the fall.
"A UAV was suppressed on the outskirts of the city of Bryansk by the means of EW," Bogomaz wrote on his Telegram channel as of 22:28.
According to him, an explosive device detonated during the fall of the drone, and there were no casualties.
On the morning of October 13, the Baza Telegram channel reported that the Ukrainian Armed Forces allegedly tried to attack the Bryansk Chemical Plant named after the 50th anniversary of the U.S.S.R, which is known to produce ammunition.
The "attempted attack" allegedly took place around 2 a.m. The drone was previously suppressed by the electronic warfare forces, fell on the roof of one of the workshops, and exploded, Baza claims.
No one was injured in the explosion. According to the channel, a few hours earlier, another drone fell and detonated on the territory of the Bryansk "Tvoy Dom" construction complex.
A commercial building of 90 square meters caught fire, and no one was injured, the Telegram channel writes.
As reported by OBOZ.UA:
On Monday, September 25, drones attacked the Russian city of Bryansk again. This time, the UAV hit a diesel plant.
On the night of August 30, a massive drone attack took place in Russia, with one of them falling on the Kremniy El plant in Bryansk. Explosions were heard, followed by a fire.
The second drone attack on the plant took place in the evening of September 7. As a result, the administrative building caught fire.
Before that, drones attacked the Bryansk plant Kremniy El on August 8. An "unknown" drone crashed into the enterprise, hitting the 5th floor of the administrative building of the plant. As a result, a fire broke out there.
Only verified information is available on our Telegram OBOZ.UA and Viber. Do not fall for fakes!