Trending:
An affair or true love? 5 celebrities who had affairs with royalty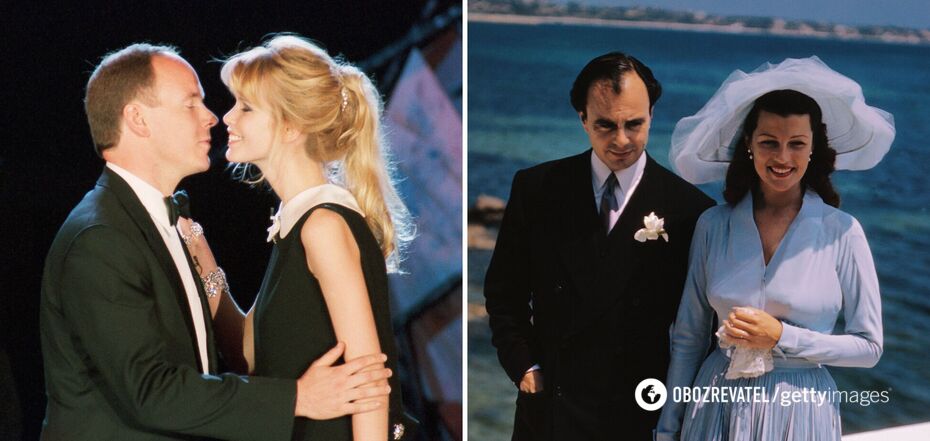 Stars who dated titled persons.
Even 70-100 years ago, royals were looking for a bride or groom among distant relatives or other members of the nobility. For example, the former Queen of Great Britain, Elizabeth II, married Philip, the Duke of Edinburgh, who is her fourth cousin, to preserve her blue blood.
Over time, titled persons began to depart from tradition. Romances between them and ordinary people became possible. In some cases, they resulted in weddings, such as those of actress Grace Kelly and Prince Rainier III or, for example, actress Meghan Markle and Prince Harry. And sometimes, romantic relationships led to nothing. In the OBOZ.UA article, we tell you about the most interesting ones (and how they ended).
1. Rita Hayworth
An American actress and dancer, sex symbol of the 1940s, Rita Hay worth was the wife of Prince Ali Khan, the son of Sultan Aga Khan III. The man fell in love with the red-haired beauty when he saw her in the movie Hilda, and he spent several months wooing her. When the couple got married, the actress stopped filming and even converted to Islam. Later, they had two children, and disputes began to arise over their upbringing. The quarrels became more frequent, so Rita and their daughter fled to the United States and ended the marriage because of, in her words, "Ali Khan's cruelty."
2. Rob Lowe
Princess Stephanie of Monaco, the youngest daughter of Rainier III, Prince of Monaco, and Hollywood actress Grace Kelly, had affairs with actor Anthony Delon and former Formula 1 driver Paul Belmondo. But one of her most high-profile affairs was with actor Rob Lowe in 1986. In his memoir Stories I Only Tell My Friends, the actor said that he moved into the royal apartments the day after he met Stephanie. Their romance was full of drinking, partying in clubs, and lazy lounging in bed. It is not known why the couple decided to break up.
3. Cressida Bonas
Before Meghan Markle, Prince Harry had an affair with another actress, Cressida Bonas, which lasted from 2012 to 2014. According to The Telegraph, the girl broke off the relationship because she was frightened by the prospect of becoming the prince's wife: "Cressida was in tears. She thinks she's too young to get married and is frightened by all his talk of marriage." So the lovers parted ways as friends. Interestingly, in 2018, Harry invited Cressida to his wedding, so his ex came to the ceremony with a new man.
4. Claudia Schiffer
In 1993, German supermodel and actress Claudia Schiffer had a short-lived affair with Prince Albert of Monaco. The couple tried to hide it from the public, but the paparazzi repeatedly "caught" them together, for example, on Albert's yacht. Rumor has it that the man proposed to Claudia, but she refused. On the one hand, she liked the prospect of becoming the new Grace Kelly, and on the other hand, the girl had reason to doubt the prince's loyalty (he was credited with having affairs with the model's inner circle, including Naomi Campbell and Karen Mulder).
5. Ruthie Henshall
The English actress, singer and dancer Ruthie Henshall met Prince Edward in the early 1990s when he was working as an assistant director at the theater. He is the third son and youngest child of Queen Elizabeth II of Great Britain. Ruth and the prince quickly started a romance: the celebrity had been dating at Buckingham Palace for 5 years, but they both kept it a secret. Why they decided to break up is also a mystery.
Earlier OBOZ.UA wrote about 5 star beauties who became wives of princes and aristocrats.
Only verified information is available on the OBOZ.UA Telegram channel and Viber. Do not fall for fakes!