Trending:
An 11,000-year-old statue of an exhibitionist man was found in Turkey. Photo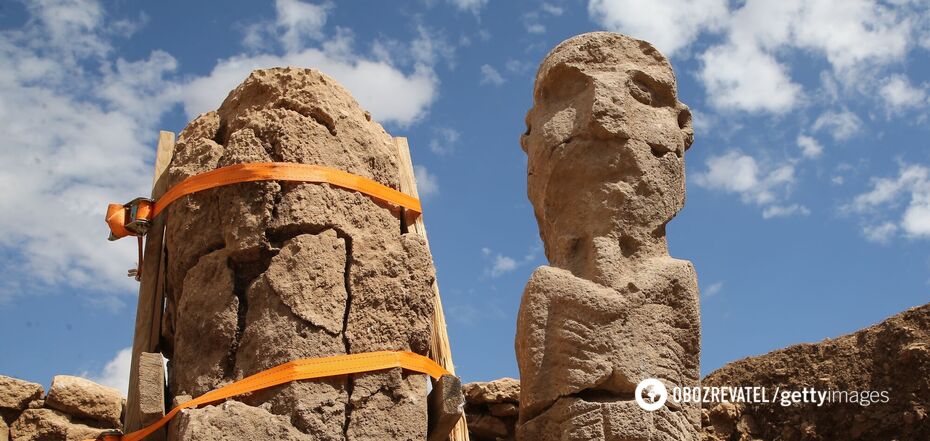 Statue of a strange man in Karahan Tepe.
In Turkey, archaeologists have unearthed a statue of a giant man 2.3 meters tall with his hands wrapped around his penis. The statue is also special because the man's spine and ribs are very distinct, which may indicate that the depicted man is dead.
Livescience reports on the discovery with reference to the researchers. In addition to the statue of a male exhibitionist, a life-size statue of a wild boar was also discovered.
The found statues are about 11 thousand years old and come from Göbekli Tepe and Karahan Tepe, which are among the oldest temple complexes in the world.
A large stone sculpture of a man was unearthed at the site of Karakhan Tepe. According to the Ministry of Culture and Tourism of Turkey, the monument depicts a man 2.3 meters high. His ribs, spine, and shoulders are particularly pronounced, so researchers suggest that the man may be depicted as dead.
"The findings from Karakhan Tepe seem to me the most interesting. Any interpretation of the statue is hypothetical at this point," said Ted Banning, a professor of anthropology at the University of Toronto who was not involved in the study.
He suggests that the man is depicted as dead and could represent "an important ancestor associated with the building."
Commenting on the fact that the figure is clutching his penis, Banning suggested that this could mean that the man was "the ancestor of a social group, such as a family or clan, associated with the building.
As for the boar statue, it was carved from limestone. According to the German Archaeological Institute, it is 1.4 meters long and 70 centimeters high. It is estimated that it, like the statue of the man, was created between 8700 and 8200 BC.
Red, black, and white pigments were found on the surface of the boar statue, which, according to scientists, may indicate that the sculpture may have been painted at some point.
University of North Carolina anthropology professor Benjamin Arbuckle, who was not involved in the excavations, said the discoveries "represent the latest exciting finds from these sites that are transforming our understanding of prehistoric communities."
A small sculpture of a vulture was also discovered nearby. Nothing is known about its age.
It used to be thought that hunter-gatherer communities in southwest Asia around 11,000 years ago were relatively simple and small, but recent discoveries disprove this idea.
Göbekli Tepe is a sprawling megalithic site filled with T-shaped pillars and elaborate sculptures depicting animals, abstract symbols, and human hands. Scientists believe that the massive and complex complex was used in funerary rituals.
Benning believes that the structures at Karakhan Tepe and Göbekli Tepe may have been used as houses rather than temples, and therefore it is logical that each of them had its own ancestor.
Earlier, OBOZ.UA reported that archaeologists had discovered a wooden "cross", which is 476,000 years old.
Subscribe to the OBOZ.UA channels in Telegram and Viber to keep up with the latest events.