Trending:
"American" apple pie on shortcrust pastry: tastier than Charlotte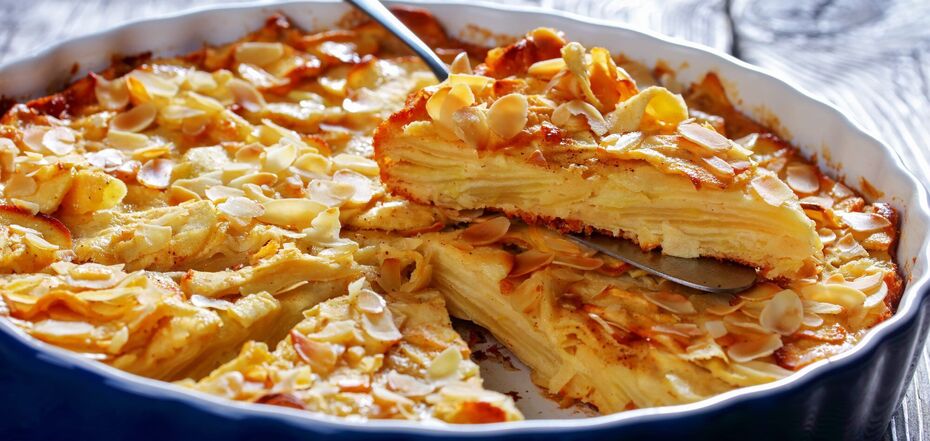 Apple pie without dough. Source: depositphotos.com
Autumn is the perfect time to make delicious, flavorful pies, cinnamon rolls, and pies. For a richer flavor, add spices to apples.
The chef shared a recipe for a delicious, flavorful shortcrust apple pie with caramelized apples on Instagram.
Ingredients:
For the dough:
flour - 380 g
sugar - 50 g
butter - 180 g
water - 80 g
For the filling:
apples - 6-7 pcs
sugar - 50 g
cinnamon - 1 tbsp
Additionally:
starch - 1 tbsp
water - 30-40 ml
butter - 30 g
egg yolk - 1 pc
sour cream or milk - 20 ml
Method of preparation:
1. Dough: sift the flour, add sugar, salt, grate cold butter and knead into crumbs. Pour in cold water and knead the dough quickly. Wrap the dough in cling film and refrigerate for an hour.
2. Mix the water and starch.
3. Peel and dice the apples. Melt the butter in a frying pan. Add the apples, sugar and cinnamon. Stir and cook until the apples release their juice, then pour in the water and starch, and cook for 5 minutes until the apple juice turns into a viscous mass. Let the mass cool down.
4. Take the dough out of the refrigerator. Divide it - one part larger, the other smaller. Roll out the larger portion thinly and place it in a mold with sides. Cut off the excess edges and pierce the bottom with a fork, then put the filling.
5. Roll out the smallest part of the dough very thinly and cut into thin strips. Intertwine the strips, cover with the filling, and brush with a mixture of egg yolk and milk or sour cream.
6. Bake the cake at 200 C for 40-45 minutes. Serve the dessert cooled.
OBOZ.UA also reported on how to cook a classic apple strudel to make it soft and flavorful.