Trending:
A tourist who meditated naked in a Hindu temple caused a stir in Bali. The video went viral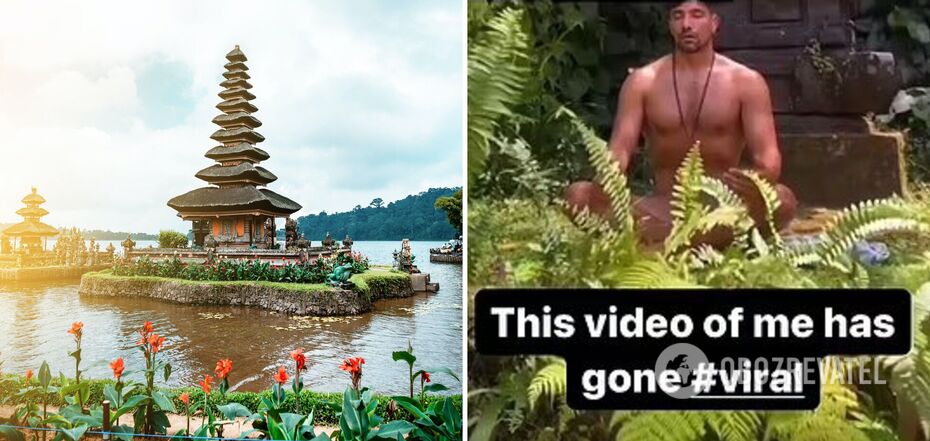 A tourist who meditated naked at a shrine in Bali claims that this is his land and he had the right
A video of a naked tourist meditating in a Hindu temple with his eyes closed caused a wide response on the island of Bali. It was reposted several times on social media by local influencer Nee Luh Jelantik.
This was reported by the Daily Mail. Angry Bali officials are looking for the person in the video, which has already gone viral.
The video reposted by Jelantik also contains text: "This video has gone viral. But unfortunately, not in a positive way. Let me give you some context before you judge me."
The story goes on to say that the man met a Balinese rice farmer who was having difficulty maintaining his finances, so he offered the Balinese a loan on the condition that the land would remain as collateral. However, the farmer later defaulted on the payments, so legally the land went to the tourist, including the house, field, and temple.
The man allowed the farmer and his family to stay in the guest house for a while while it was being repaired, and then he rented it out on Airbnb. "So when others say that I meditate naked in a holy place, I want to let you know that they are wrong. In fact, I am meditating naked on MY OWN DAMN LAND," he said in the post.
In her repost of the video, influencer Jelantik wrote angrily: "We need to fight disrespect for holy places with severity! We are tired of the behavior of tourists who despise our homeland."
"We are still investigating the incident," said Tedi Riyandi, head of the immigration office. Authorities have identified the foreigner, but his name and nationality have not been disclosed as the search is ongoing.
"The efforts currently being made by the Immigration Service are aimed at contacting the foreigner's social media account, but to date there has been no response," Riyandi said. He said the search is being coordinated with the Bali police and they are still trying to determine the location and time of the incident.
Tourist-dependent Bali attracts millions of foreign visitors every year, but several high-profile cases since the island reopened after the Covid-19 pandemic have led to the deportation of tourists for indecent acts.
Bali's immigration service deported a woman from Denmark in June after she was filmed showing her buttocks to the public while riding a motorcycle.
In April, a Russian woman was also expelled from the island for posting a nude photo of herself in front of a sacred tree.
In May, a German tourist sparked outrage by stripping off her clothes and interrupting a sacred performance at a temple in Bali in a nude rampage that could see her face nearly three years in prison.
Daria Tuschinski, 28, was denied tickets to a Hindu dance show, so she pushed past security and removed her clothes in a bizarre protest. When a local resident tried to stop her, she curtsied to him, as if imitating the movements of the performers, and then stepped off the platform and knelt down at the shrine as if she were praying.
Earlier, OBOZREVATEL wrote about how a Russian tourist was detained in a popular Turkish resort for stripping, screaming and beating on the asphalt.
Only verified information is available on our Telegram channel and Viber. Don't fall for fakes!