Trending:
A 34-year-old woman spent $30,000 on rejuvenation and told us which procedures are really worth the money and which should be avoided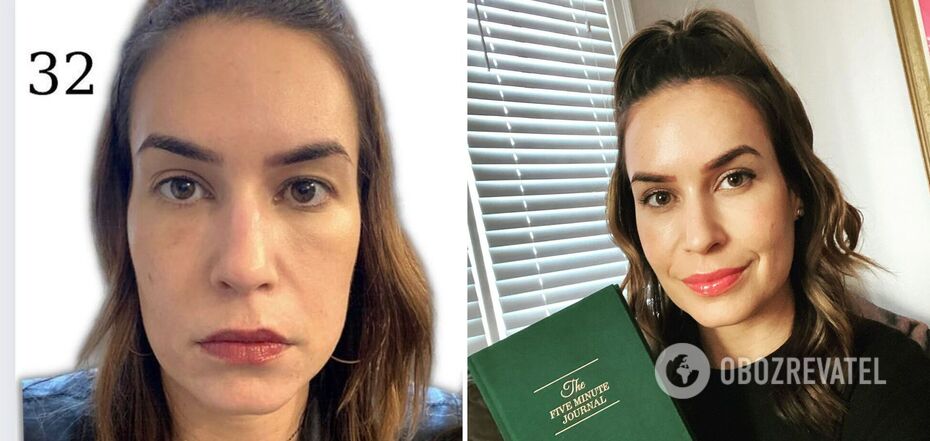 Rachel Rose told us what rejuvenation procedures she had done
Blogger Rachel Rose from Florida shocked the public by admitting that she spent 30 thousand dollars (more than a million hryvnias) on anti-aging cosmetic procedures. The 34-year-old American has been manipulating her face and body for the past nine years.
On her YouTube channel, Rachel posted a video in which she talked about her rejuvenation process and answered which procedures are really worth the money and which ones should be avoided. The woman honestly admitted that she "made some big mistakes along the way."
Rose admitted that she wanted to look younger, referring to a concept from Dan Sullivan and Benjamin Hardy's book 10x is Easier Than 2x, which is to "want what you want."
"I want to look younger. I realize that there will come a point where it seems like there's only one way you can go, there's only one anti-aging product, there's also a point where you can start looking crazy, and I certainly don't want to go that way, but I want what I want. Yes, I spent $30,000, but I want what I want," the blogger began her video.
Rose made a list of all the anti-aging treatments she had tried, from the most expensive to the cheapest. Seeing or not seeing a change for the better, she concluded which of these steps were worth the money.
Botox and Dysport, $8,000: it was worth it
According to Rose, she has been getting Botox and Dysport injections since she was 25, and she has never regretted it, despite the amount of money she had to spend. The woman notes that her skin has started to look smoother, and wrinkles have become less noticeable. The blogger also emphasizes that it is worth choosing a truly licensed professional who will not aim to make as much money as possible by offering the client all possible procedures, but will really help to improve natural beauty.
Rachel added that her face did not start to look immobile after the "beauty injections," as it happens in some cases. All the facial wrinkles and lines on her face just became less deep and noticeable.
Dysport, which is a type of botulinum toxin, is an injection used to treat facial wrinkles by working to relax the muscles under the skin.
Upper Blepharoplasty, $3,500: It's worth it, but avoid one mistake
Upper blepharoplasty is an operation to remove excess fatty tissue and sagging, loose skin from the eyelids, as well as to eliminate "fat bags." Rachel admits that many people didn't notice any changes in her after the procedure, but when she showed the before and after photos, everyone was impressed.
That's why the blogger believes that the surgery was worth the money, but she warns girls against one big mistake she made herself. "When it comes to eyelids, they heal so fast and heal so well on their own that it's better to do nothing. By massaging my scars, putting collagen strips and other things on my eyelids to speed up the healing process, I only made my scars worse. Much worse. I actually created scar tissue," Rose said.
Subsequently, the American woman underwent additional laser treatment to remove the scars, and the condition of her eyelids improved. For people who are going to undergo surgery, Rose recommended that they carefully read real patient reviews to find a good surgeon, and also seek help from beauty brokers who are more expert in finding nail technicians and doctors.
Morpheus8, $3,000: not worth it
Morpheus8 is a microneedle RF lifting device. The cosmetic procedure can correct age-related skin changes, improve skin quality, and reduce fat deposits.
Although Rose said that six Morpheus8 treatments "tightened her face" and helped her get rid of her double chin, she believes that the risk of the procedure is "not worth the reward."
"It's great for areas like the double chin, but if the doctor doesn't know what they're doing, they can burn fat in areas where we wouldn't want to do it, in areas that help us look younger. There are people who have gone to doctors and ended up regretting it. The fact that with Morpheus8 you still have to undergo constant treatment, in my opinion, is not worth it," the blogger expressed her opinion.
Laser Hair Removal, $3,000: worth it, but choose your master carefully
Rachel had this procedure done on her armpits, bikini area, and legs. She said she had a bad experience with an unreliable aesthetician. To get good results after several treatments, you should spend a lot of time looking for a really good professional who will perform hair removal safely and painlessly.
The blogger also concluded that she would only do underarm hair removal. "I have a dark shadow after shaving, but after laser hair removal, there is no such shadow," the American woman said.
PRF and PRP or "vampire face", $3,000: it's worth it
PRF and PRP, a complex injection that has been dubbed the "vampire face," is one of Rose's favorite procedures, and she even prefers it to the injection of fillers. The procedure involves first taking blood from the arm. Then this blood is placed in a machine that separates platelets from blood, after which the platelet-rich plasma is injected back into the face. The procedure is considered a natural filler and can also reduce wrinkles, acne scars, and deep creases.
"I liked this treatment because I get dark circles under my eyes, and it makes a difference. It also just improved the quality of my skin, but it's expensive. Wherever I go, it costs 500-600 dollars per treatment. To see results, you need to go back for the procedure several times," Rose commented.
Filler, $3,000: it's worth it, but only in some places
Rachel first tried fillers when Kylie Jenner began to gain wide popularity. Under the star's influence, the American woman had her lips augmented around 2015. Rose admitted that the procedure was a waste of money for her personally, as she already had rather plump lips. Nevertheless, the blogger is a fan of filler injections under the eyes, but warned that sometimes they can start to "migrate".
"I also recently had a filler injected into my chin. My doctor specializes in what's called 'facial balancing,' which focuses on achieving a more proportionate facial appearance. For example, big lips don't suit some face types, and if you have big lips and a small chin, it can lead to a "weak" profile. Fillers in my chin make my profile look 'sharper'," Rachel commented, adding that with fillers, you need to have a sense of proportion and never go overboard.
Co2 and eCo2, $2,500: it's worth it
"These are very intense lasers. They are ideal for those who want to completely renew their skin," the blogger said.
She admitted that about five years ago, she had severe rashes on her face, which even after being treated with medications and disappearing, left traces.
"The controversy about these lasers is that people worry that they thin the skin, that they melt fat, and that they are too aggressive. Part of me wonders if it's really a laser or if it's just that certain skin types react differently to it. However, I am happy with the result," the woman assured.
Sculptra, $2,000: it's worth it
Sculptra is a type of dermal filler that is injected into the skin to give it a smoother, fresher appearance. In other words, it's a long-lasting filler that helps to rejuvenate the skin, model facial features, and produce collagen, says Rachel. The blogger definitely recommends this procedure, saying that two years ago she looked older than she does now.
Mesotherapy, $1000: it's worth it, but in the long run
These are micro-injections of beauty that help get rid of the primary signs of aging, improve the functioning of the subcutaneous glands, remove the effects of acne, and improve hair growth. The procedure consists of injections with small needles that deliver vitamins and nutrients to the skin. Injections are made manually or with a special gun.
"I think this is one of those things that is a long-term game. If you really want to improve skin texture and reduce pore size, but not use something as invasive and crazy as CO2, mesotherapy is a great option. You just need to budget for it and schedule it on a regular basis," Rachel commented.
Fraxel laser, $1,000: not worth it, at least for her
Another procedure Rose has invested in is Fraxel, a laser skin resurfacing treatment. According to the woman, she was not happy with the result.
"I found that I got a lot more radiance and just a lot more glow when I did the Co2 than the Fraxel. I don't know if I noticed anything special with Fraxel, but some people really like it," Rose commented.
Broadband light or BBL, $500: it's not worth it
The last procedure Rose spent her money on was broadband light, or BBL (not to be confused with the Brazilian butt lift). It is a powerful light treatment that helps treat skin conditions associated with aging and sun damage. Rose explained that some people like to have this procedure done after summer because it can help treat dark spots. But the blogger, as she admitted, did not see any special results.
Earlier, OBOZ.UA wrote about stars who disfigured themselves with plastic surgery. Now they warn others not to repeat their mistakes.
Only verified information is available on the OBOZ.UA Telegram channel and Viber. Don't fall for fakes!