Trending:
10 mistakes you should never make when traveling to Thailand for the first time: some of them can cause big trouble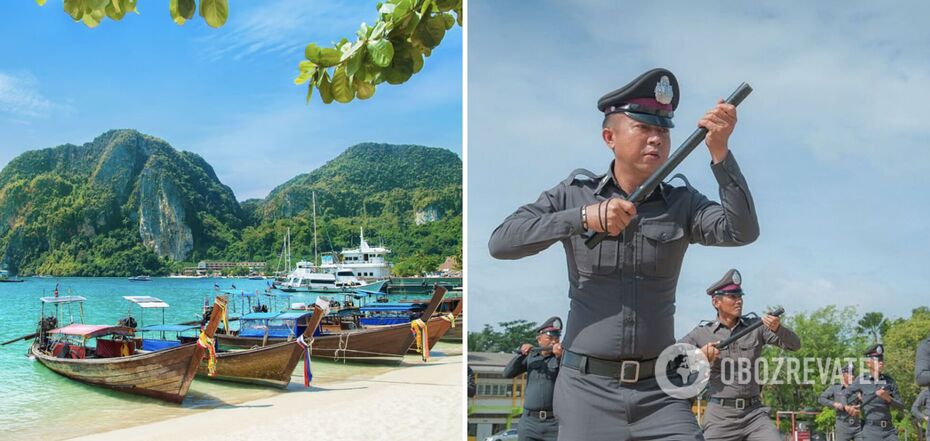 10 mistakes you should never make when traveling to Thailand for the first time: some of them can cause big trouble
Thailand, although everyone thinks of it as a typical beach vacation, is actually a country that hides a lot of secrets. Asia lives by laws that may frighten Europeans and are quite strict.
Some mistakes can lead to trouble. OBOZREVATEL tells you about a number of rules that must never be violated in Thailand.
Everyone who goes to Thailand for a typical beach vacation is wrong. The locals dress very modestly, so tourists can be immediately identified on the streets in short skirts and shorts.
Thailand's culture is also very rich, but you won't be allowed into Buddha temples in vulgar short clothes. It is worth noting that even in the city it is better not to go out in miniskirts and shorts, because you can get comments. Thailand has its own traditions, customs and religious beliefs. Inattention to them can offend locals and lead to unpleasant situations.
Violation of the laws of Thailand can have serious consequences, and it is especially important to follow the rules related to insulting the king and his family. Thailand has one of the strictest monarchical systems in the world, and this requires visitors and residents to be respectful and careful with the royal family.
The image of the king and other symbols of the monarchy are taken very seriously. Negative comments or gestures can lead to arrest and prosecution. Taking pictures of certain monarchical symbols, even unintentionally, may result in penalties.
Some tourists underestimate the scorching sun in Thailand. Don't skimp on sunscreen, as cheap products don't provide the necessary protection. You should use it throughout your vacation, not just at the beginning. Do not forget about glasses, hats and light clothing that covers the skin to avoid aggressive burns.
Car rental in Thailand is really cheap, but the traffic and roads in the country are dangerous. It is best to explore the area by car, but you should drive very carefully. Do not skimp, it is better to choose a comfortable vehicle with air conditioning, airbags and seat belts.
Thailand is washed by the Pacific Ocean, whose currents are very aggressive. Therefore, even the simplest Thai boats have motors, as it is difficult to fight the movement of water with oars. Kayaking is considered a dangerous pastime, as it can lead to tragedy.
Street food in Thailand is very tasty and authentic, but caution in choosing places and maintaining hygienic standards is essential to stay healthy while traveling. Choose places where there are many locals and popular restaurants. Such places are usually in stable demand and the quality of food is monitored.
Watch how the chefs cook and what products they use. Make sure the staff has clean hands and wears gloves and aprons. If there is a queue at a particular place, it can be a good sign, as people are coming back and this indicates the quality of the food. Avoid raw fish, seafood, or meat as it can lead to illness, especially in countries with climatic conditions favorable to bacteria.
In Thailand, you can encounter a lot of scammers, ranging from kayak rental companies to sellers in souvenir shops. The fact is that some souvenirs, including religious artifacts, Buddha images, and plants, cannot be exported from the country. At the customs at the airport, tourists are subject to strict control.
Buy goods only in reliable stores or markets, avoid buying fakes, as this can lead to loss of money and confiscation of goods at the border.
Accommodation in Thailand
The choice of accommodation when traveling to Thailand is important to ensure comfort and a positive impression of the trip. Before booking a hotel or apartment, research different options, check their websites and reviews, for example, on Booking.com, TripAdvisor, Airbnb, etc. This will allow you to get real information from people who have already stayed in the place.
Thais and Europeans have different ideas about amenities. Make sure that the chosen accommodation provides everything you need: Wi-Fi, air conditioning, restaurant, kitchen, and cleaning services.
Social media shows all your activities. Avoid posting anything that could cause trouble, and be aware that local authorities may monitor your online activity.
Communicating with strangers
Be cautious when communicating with strangers, especially never trust someone who makes contact too quickly and affectionately. Political topics, especially those related to the monarchy, are very sensitive. Avoid discussing political views in depth. Even if you are interested in a dialog about the monarchy, be extremely careful and polite in your statements.
Earlier, OBOZREVATEL wrote about the mistakes made by tourists in Rome. Trying to see everything at once can end in trouble, and the tour will not bring good impressions.
Only verified information is available on our Obozrevatel Telegram channel and Viber. Don't fall for fakes!