Universal custard: goes with any dessert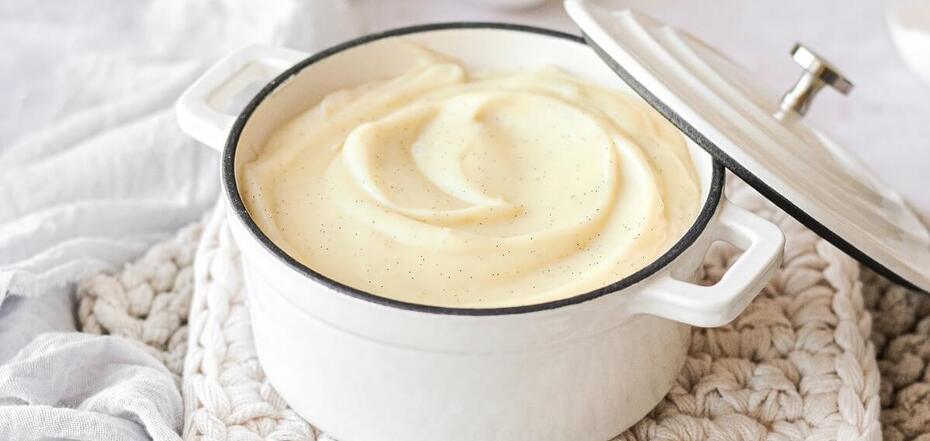 The easiest custard recipe
If you already have ready-made cakes and need to make a delicious dessert out of them very quickly, this custard would be the perfect option. It turns out very delicate because it is prepared based on milk and butter. The mass becomes thick instantly, so you need to stir it vigorously.
The idea of making universal custard for any dessert is published on the page of the food blogger with the nickname zhuravlina_cooking on Instagram. You can make eclairs, cakes, muffins, and your other favorite treats with it.
Ingredients:
milk - 500 ml
vanilla sugar - 10 g
corn starch - 50 g (no more)
eggs - 2 units
sugar - 130 g
butter - 150-180 g
pinch of salt
Method of preparation:
1. Add sugar, vanilla sugar, and a pinch of salt to the eggs and beat everything with a mixer. Then add the cornstarch and beat again with a mixer.
2. Pour the milk into a saucepan (but not enameled because the cream will burn), put it on the fire, and bring it to steam (not boiling - the eggs will turn immediately).
3. Pour the egg mixture into the milk and over medium heat, stir with a whisk constantly until the cream turns.
4. When the cream has turned and started bubbling, then turn the heat down and stir vigorously with a whisk for 30 seconds to get the starch to flow well.
5. Add the butter to the cream and stir well again until the butter combines with the other ingredients.
6. Put the cream into any container, cover it with clingfilm to prevent it from getting rusty, cool it to room temperature, and put it in the refrigerator or use it immediately in any dessert.
Also on OBOZREVATEL, you can read the recipes: