Trending:
Easter craffins with dried fruit: how to make an unusual pastry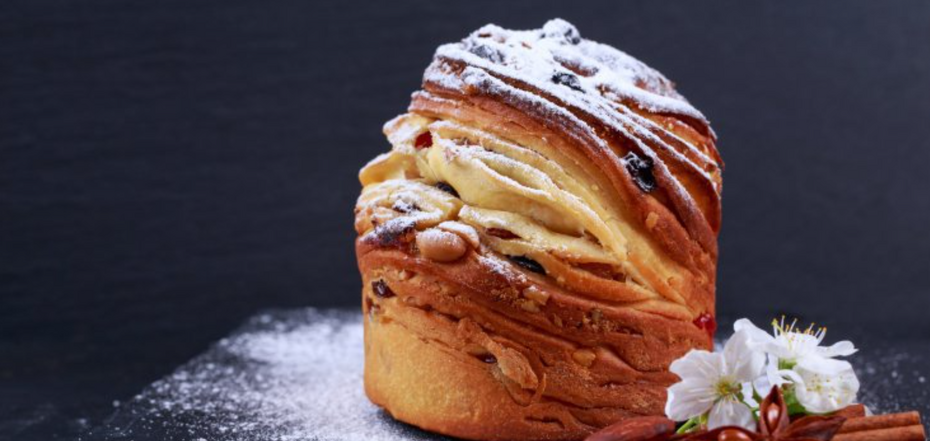 Kruffin with raisins recipe
Easter craffins are a type of holiday pastry, the basis of which is a yeast light dough, stuffed with dried fruit. The essence of the delicious pastry is in its original form.
Culinarian Anna shared a recipe on Instagram for delicious, puffy holiday craffins with dried fruit that turn out very light and flavorful.
Ingredients:
Batter:
warm milk - 159 g
dry yeast - 12 g
flour - 50 g
zest of 1 orange
vanilla
batter:
eggs - 3 pcs.
sugar - 150 g
80 g melted butter
flour - 550 g
turmeric - 1/3 tsp.
Filling:
dried fruit/sugar/cinnamon/chocolate - as desired
butter - 100 gr
Method of preparation:
1. The sourdough: combine warm milk, yeast, flour, zest, vanilla and leave in a warm place for 10-15 minutes.
2. Dough: beat the eggs with sugar for 10-15 minutes until a steady fluffy foam, add the starter, melted butter, mix. Add flour in 100-150 grams increments and knead the dough. If the dough is sticky, add another tablespoon of flour. The kneaded dough will be smooth and not sticky in your hands. Leave the dough to rise in a warm place for 1.5 hours.
3. Roll out the dough and divide it into 4 parts. Roll out the dough into a 30*40 cm rectangle, brush with 25g of butter, add the filling if desired, roll up into a kraffin and turn immediately into moulds. Leave to rise for 1 hour.
4. Then bake on the lower level at 170 C for 45 min + 10 min on the middle level to brown the top.
5. Allow the finished cruffins to cool completely and then cut!
Also on OBOZREVATEL reported how to prepare a delicious and original Easter cake with strawberries without baking.