Trending:
Don't do this: 9 make-up mistakes that will age you 10 years and ruin your look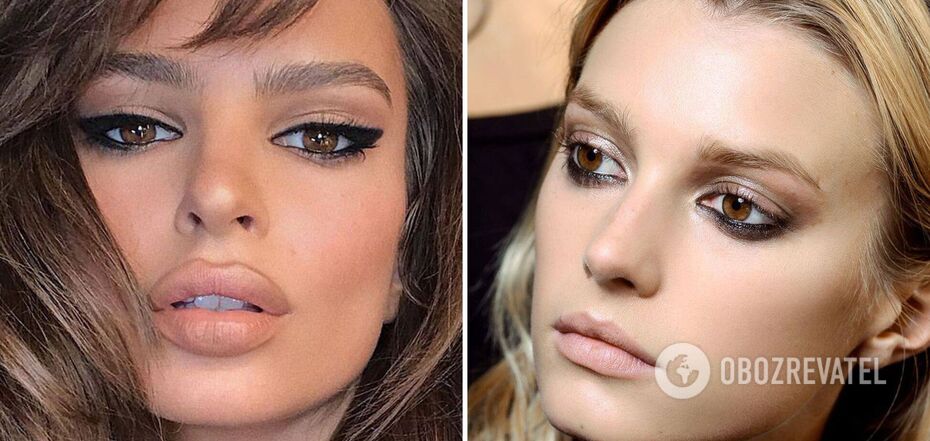 Too dense tone and bright contouring are the main make-up mistakes
Even if you are 18, the mistakes discussed below will turn your look into a heavy and gloomy one. Makeup is not only about hiding flaws and highlighting your assets, but also about making you look fresher and better-groomed. A few life hacks will help you create a make-up look no worse than in a salon.
OBOZREVATEL will tell you why your look used to look tired and unnatural. These simple rules will turn you into a Hollywood star (to see the photo, scroll to the end).
1. Aggressive contouring
Too intense contouring with pronounced cheekbones looks unnatural and robs the look of freshness. If you overdo it with bronzer, you will definitely add a few years to your life and make your make-up heavier. Even diagonal shading in this case gives the opposite result.
2. Dark blush
Even if you are a sultry blonde, dark blush will not add fashion points to your appearance. To look fresher and younger, use dusty pink or peachy shades. Keep plum and brown tones away.
3. A thick concealer
Foundation can age you too. Try to apply a thin layer of concealer to keep your skin from drying out and looking hydrated. An excessive amount of foundation will create a mask effect.
4. Black smoky eyes
This make-up makes the eyes visually smaller and the image heavier. Nowadays, even in evening looks, you can hardly find smoky eyes, which are made only with black shadows shaded over the entire eyelid. Replace darker shades with warmer ones - chocolate, copper or add a glow.
5. Accentuating the lower eyelid
This eye make-up technique draws attention to the outer corners. If they are lowered down, your look will become emphatically sad. To ensure the effect of a visual lift, direct all strokes upwards.
6. Thick arrows
Whether for 18-year-olds or 50-year-olds, thin and neat arrows look advantageous, optically stretching the shape of the eyes, bringing it closer to the most desirable almond-shaped shape. Thick arrows will spoil the look and create the appearance of heavy eyelids and a tired look.
7. Graphic eyebrows
To add severity to your look and make you look a couple of years older, draw your eyebrows clearly with a dark pencil. And to refresh them, use the "shading" technique without pressing the brush. Shape the eyebrows, but do not draw the contour and every hair.
8. Dark lip contour
Think back to the 90s. Make-up with a lip pencil that is darker than lipstick adds ten years to your look. In addition, this "technique" looks as unnatural as possible. Try to match the colour of the pencil to the lipstick and use glosses to make your lips look more luscious.
9. Dark lipstick
Many people don't know that it's not the colour of lipstick itself that often ages, but its unsuccessful combination with too light a foundation or sharp contouring with dark blush. In this case, the contrast in the make-up is too strong, and the image is gloomy. To get rid of this problem, "highlight" the skin without making it look dull.
Earlier, OBOZREVATEL told you what hairstyles can transform women and give them a special charm. Blond, copper and chocolate colouring is in fashion. As for the haircut, try a boxy bob or curved cut.
Only verified information on our Telegram channel Obozrevatel and on Viber. Do not be fooled by fakes!