Trending:
Brodsky: I hope that the tournament in Istanbul will make people think and that this will not happen again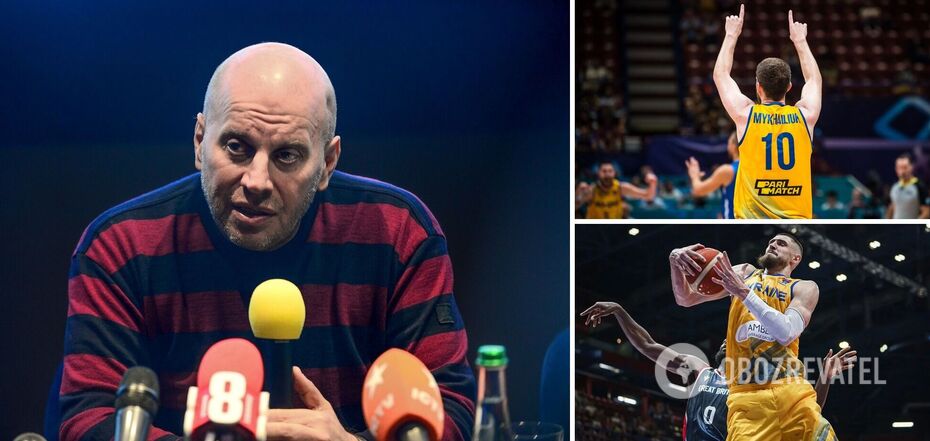 Brodsky addressed the legionnaires of the Ukrainian national team
Mykhailo Brodsky, President of the Basketball Federation of Ukraine, commented on the situation with a number of players not joining the Ukrainian national team, which has recently completed its performance in the pre-qualifying tournament for the Olympic Games.
"I want to start with the situation with Slava Kravtsov. This guy, a real captain, came to play for the national team at the age of 35. I've been in the Federation for 30 years and in basketball for 30 years, and I've never heard anything bad about him - he's an example for everyone. And Kravtsov has always given Perhaps if there had been a big rotation, this would not have happened to him, but this is an assumption.
Slava Petrov and Serhiy Pavlov also came and got injured in the national team. Petrov will recover faster, Pavlov also has a serious injury. They also have a lot of respect.
All the other guys, the young ones who are starting their way in the national team, and the veterans, also have a lot of respect.
To say that we did everything we could... I would like to do more. I wanted to get to the Olympic qualifying tournament, but it was probably impossible for us to get past the Turkish and Croatian national teams, who were determined to win and brought their best players from the NBA and Euroleague.
I want to say something about our "Americans". Skapintsev - I don't understand you, Dima. Unfortunately, my basketball school was only concerned with the education of players, not personalities. You grew up as individuals in your families. But it seems to me that you signed a contract in early August, after which you could get on a plane and fly to the national team. I don't know the details of the contract, whether there was a ban on playing in the national team...
I can say the same about Sviat. Yes, I would really like to sign a contract in the USA or maybe Greece. It's probably risky to play in the national team without a contract, but Kravtsov did. You are not poor people, and let it be on your conscience. Personal well-being is important, but you guys have to do your duty to your country. I'm not talking about anything else.
Oleksiy Len. I would like to believe that he really couldn't, but the green card saga has been going on for a long time.
The rest of them, who are post-operative, have no questions. Lipovyi, Sanon, Gerun gave me certificates. It reminded me of school, when we would bring in certificates saying that we could not run, jump or do anything else for two weeks or a month. If a person really wants to, they find the strength. I wouldn't like to think that the conflict in the press with Prometheus' management somehow influenced Lipovyi or Sanon's decision.
How can you not want to play for the national team today, when your peers are dying... I don't want to say the number, because we don't know, but dozens die every day for sure... when children die. It seems to me that each of you guys had to do everything to come and fight for your homeland... not under bullets, where you didn't get there by the will of fate, in particular because of basketball. Just to come, maybe risk injury, but to give our citizens, our country, some second feeling of victory, satisfaction, joy. This is what you have to do. Nowadays, you can't just decide not to come to the national team, as Medvedenko used to do, today everyone has to give their people what they can and can do.
I hope that this tournament in Istanbul will make us and you think about what is happening, and that this will not happen again. We have a good coaching staff - Ukrainians, they work hard. Let's somehow unite and not do this again," Mykhailo Brodsky addressed the players.
As OBOZREVATEL previously reported, Ukraine's national basketball team lost to Croatia in the semifinals of the pre-qualifying tournament and will not play at the 2024 Olympics.
Only verified information is available on our Obozrevatel Telegram channel, Threads and Viber. Don't fall for fakes!