Trending:
How to cope with stress in a child: simple exercises from the Ministry of Health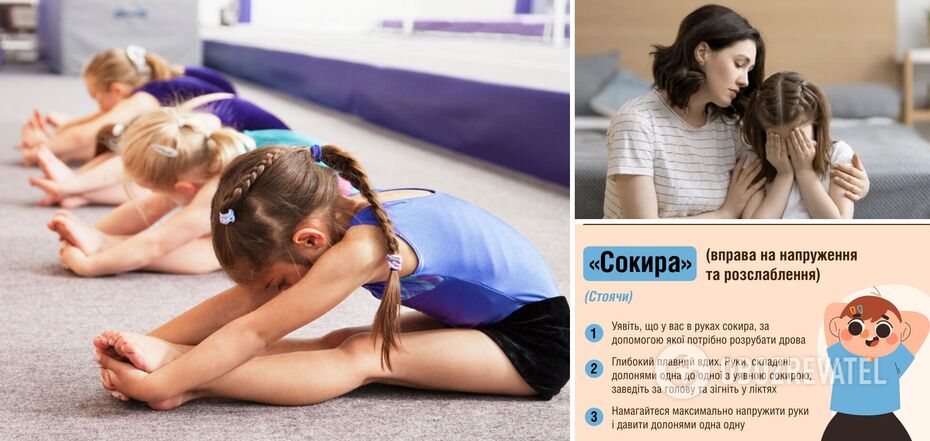 How to cope with stress in a child
The full-scale war has caused stress in Ukrainian children. At the same time, no one has cancelled the life circumstances that harm the psychological health of children even in peacetime.
The Ministry of Health of Ukraine has given advice on how to reduce a child's anxiety. The instructions published on the ministry's social media are aimed not only at therapy but also at the physical development of children. In addition, they will be able to have a lot of fun.
The author of the anti-stress exercises is psychotherapist Serhiy Mishchuk. Adults are also encouraged to do them with their children.
"Belly breathing"
1. Standing or lying down, place your hands with your palms on your stomach.
2. Breathe slowly, watching your stomach rise and fall under your hands.
3. Take a slow breath in while holding your stomach gently with your hands.
4. Slowly exhale - at the same time gently press on the stomach.
Perform 10-12 breathing cycles at a comfortable pace.
"Shaking"
Perform the exercise while standing.
1. Move your legs alternately, shaking the relaxed leg as much as possible.
2. First, move your right and left legs forward alternately.
3. Repeat the same movements in the opposite direction.
4. Do the exercise 10-15 times for each leg in different directions.
"Stretching"
Perform the exercise standing with a straight back, feet shoulder-width apart.
1. Gently raise your right arm up.
2. Pull your right arm up with the edge as if you are trying to press the sky, and your left arm down in the opposite direction.
3. Inhale and exhale several times.
4. Stay in this position - imagine that you are a tree that is being swayed by the wind.
5. Sway left and right 10-15 times.
6. As you inhale again, slowly come out of the pose and place your hands on your chest. As you exhale, slowly lower your arms down.
7. Take 2-3 breathing cycles to relax and repeat the exercise in the other direction.
"Axe" (tension and relaxation exercise)
Performed while standing.
1. Imagine that you are holding an axe with which to chop wood.
2. Take a deep, smooth breath. Put your hands together as if holding an axe, behind your head and bend your elbows.
3. Try to strain your hands as much as possible and press one on top of the other.
4. With a strong, active exhalation, tensing your arm muscles as much as possible, make a sharp forward movement as if trying to cut the air with an axe.
5. Repeat the exercise 10 times.
Earlier, OBOZREVATEL wrote about techniques that will help you fall asleep faster. It is worth paying attention to yoga nidra and square breathing.
Only verified information is available in our Obozrevatel Telegram channel and Viber. Do not fall for fakes!