Trending:
Danilov: people who prepared the Budapest Memorandum are getting in the way with proposals for negotiations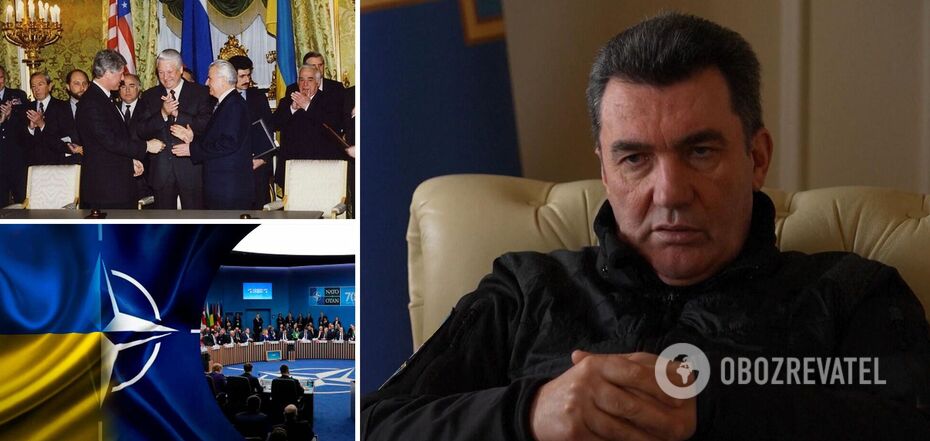 Danilov threatened supporters of the Budapest Memorandum
The initiators of the Budapest Memorandum, which disarmed our country and eventually led to today's war, are now offering Ukraine ideas on security guarantees. This may end up with an article on state treason for them.
This was stated by the secretary of the National Security and Defense Council of Ukraine, Oleksiy Danilov, during a telethon (to watch the video, reach the end of the page).
He emphasized that Ukraine today needs to watch very carefully the possible provision of security guarantees by the so-called Israeli model so that "it does not happen like with the memorandum that was prepared in 1994."
Danilov emphasized that Israel has nuclear weapons, while they were "taken away from Ukraine for free". Therefore, such a model will again leave our country unprotected. And those who propose it are traitors to Ukraine, and it will not forgive them.
"I want to point out that the people who prepared the memorandum in 1994, they are still tangling underfoot in some processes and also offer us certain things. Dear 'friends', we are monitoring all your processes very closely, you need to stop doing this foolishness. Because the country will not forgive you for this," Danilov stated.
According to him, if they continue to offer Ukraine some nonsense, it "may end very dangerously for them with Article 111 (on state treason - Ed.), which no one has canceled for anyone".
The NSDC secretary did not name specific names, but only specified that these people have diplomatic status. They are trying to negotiate "behind the backs of the Ukrainian people".
"Lavrov met in the United States with those people who have nothing to do with politics in Washington now, but have a desire to influence something, we talked to them. Keep in mind that we also have such people who pretend that they can decide something on behalf of the Ukrainian people," Danilov added.
At the time of independence, Ukraine had the third largest arsenal of nuclear weapons in the world.
After signing the Budapest Memorandum in 1994, Ukraine renounced the status of a nuclear state, and the United States, Russia and the United Kingdom (later joined by China and France) gave Kyiv guarantees of sovereignty and territorial integrity in exchange. As history has shown, these guarantees turned out to be a sham.
As OBOZREVATEL reported, Ukrainian President Volodymyr Zelensky stressed that Ukraine needs real security guarantees until it becomes a NATO member.
Earlier, Zelenskyy voiced expectations from the NATO summit in Vilnius.
Lithuanian leader Nausėda assured that Ukraine at the summit in Vilnius can get such commitments that will not disappoint it.
Only verified information we have in the Telegram channel Obozrevatel, Threads and Viber. Don't be fooled by fakes!