Trending:
How to dry your jeans faster, keeping their shape and size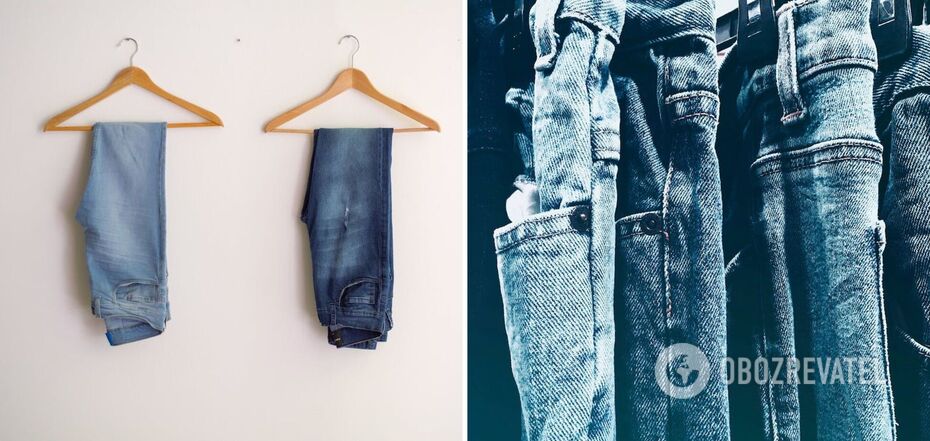 How to dry jeans faster
Jeans are a staple in most people's wardrobes, and they can be worn to different events and used in everyday looks. However, repeated washing and improper drying spoil the appearance of the garment.
OBOZREVATEL has found an effective life hack that will help you quickly cope with this. You will be able to preserve the bright color, shape, and size.
To dry your jeans quickly and without using a tumble dryer, you'll need a dry, clean towel.
After washing, wrap the pants in a towel to remove excess moisture. Then hang your jeans outdoors or in a well-ventilated room. This simple life hack will significantly speed up the drying process.
You can also smooth the jeans with your hands while they are wet to keep their shape and get rid of wrinkles. This will save you time and effort so that you don't have to iron your pants later.
Washing
It is not recommended to wash your jeans frequently to avoid ruining their appearance. If there are stains on the pants, you can wash only those stains. Apply a little detergent to the necessary areas and wipe lightly with a damp cloth. Then rinse with lukewarm water and dry in the fresh air.
If the jeans are to be washed completely, turn them inside out before putting them in the washing machine. This will help to avoid fading. Choose the right washing mode, such as hand wash or delicate cycle.
Be sure not to add too much powder. White marks may remain on the jeans and you will need to wash them again. In this case, rinse the pants with cold water to remove any residue.
Freezer
If your jeans do not have any stubborn stains or dirt and only need to be freshened up, you should not use a washing machine. Put them in a plastic bag and place them in the freezer overnight instead. The low temperature will help remove the odor.
Vinegar
You can also make a vinegar spray to freshen up your fabric. Mix vinegar and water in a 1:1 ratio and spray on your jeans. Then moisten with some water and dry.
Earlier, OBOZREVATEL told you how many times you can wear clothes without washing.
Subscribe to OBOZREVATEL on Telegram and Viber to keep up with the latest news