Trending:
White chocolate curd Paska in 15 minutes: the easiest holiday recipe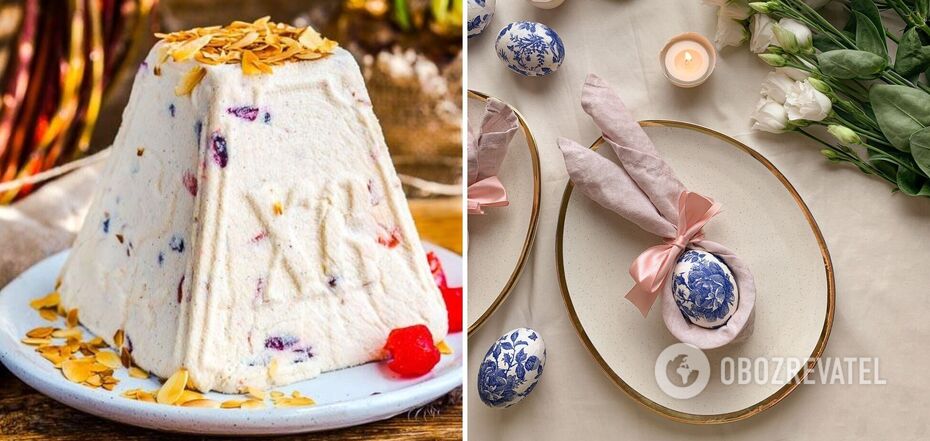 Curd Paska
Delicious Paska (Easter cake) is the main symbol of the brightest and one of the main holidays of Orthodox Christians - Easter, which will be celebrated in Ukraine on April 16. Easter cakes are prepared according to completely different recipes, and for those who do not eat dough, there is a great alternative - a cheese Paska, which requires high-quality cottage cheese.
Culinarian Julia shared on Instagram a recipe for a white chocolate curd Paska, which will turn out very tasty and flavorful.
Ingredients:
9% cottage cheese - 550 g
egg yolks - 3 pcs.
sugar - 100 g
butter - 100 g
white chocolate - 100 g
33% cream - 130 g
Method of preparation:
1. Combine the cottage cheese, egg yolks, sugar, softened butter and punch the mass with an immersion blender until smooth.
2. Put the cottage cheese in a saucepan and bring the mass to the first signs of boiling over low heat, stirring constantly. Then remove the saucepan from the stove and let the mass cool to room temperature.
3. Melt the white chocolate in a water bath and add to the cottage cheese custard mass, mix until smooth.
4. Whip the cream to soft peaks and add to the main mass with a silicone spatula and mix very gently from the bottom up.
5. Spread a piece of damp gauze over the walls of the Paska pan (it is better to fold it in half). Turn the cake pan itself upside down and place it in a deep plate, where the whey will continue to drain. Carefully fill the Paska pan with curd mass, cover with the remaining ends of gauze and put in the refrigerator for 15-20 hours, put a press on top.
Also, you can read these recipes on OBOZREVATEL: