Trending:
What you should take with you to a barbecue: things you always forget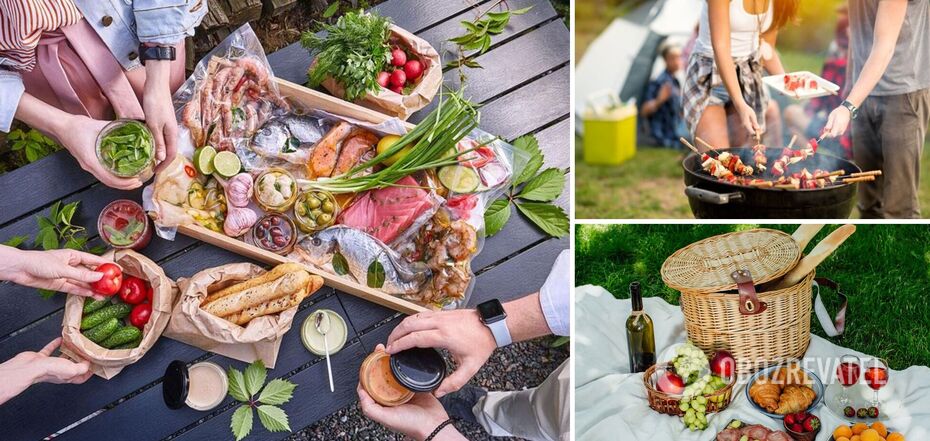 A list of things people often forget when they go on a picnic
For the second year in a row, because of the full-scale invasion, Ukrainians do not have the traditional long weekend in May. But this is not a reason to deny yourself the pleasure of going to the countryside with friends and family.
Time spent in nature will take your mind off your worries and give you a break from your daily routine. However, going to the kebabs, it is very easy to forget some necessary things. OBOZREVATEL publishes a list of things that must be taken on a picnic.
Plaid and tablecloths for a picnic
Plaid will be needed if you are going out in the countryside, where there are no set tables or places to sit. Therefore, you need to take care in advance about the blanket on which you will sit and about a separate plaid or tablecloth, where the contents of the picnic basket will be placed. By the way, blankets with waterproof backing are gaining popularity, which will help keep your clothes dry if the grass and sand are wet.
Backpack, basket, cooler bag
A traditional basket would be perfect for a casual picnic. If you're bringing food and drinks that need to be cool, don't forget a cooler bag. When planning a hike deep into the woods, take a special backpack and wear appropriate clothing that will protect you from insects, snakes, and ticks.
Knife and Planks
You can cut the sandwiches at home before you go on the picnic. But it's better to do it on the spot, so you don't let the food get stale or the bread get soggy.
Trash bags
Trash bags are forgotten all too often, so you may notice real garbage dumps after picnics. Make sure you have trash bags and plastic bags ready beforehand. Food scraps, dirty dishes, and disposable cups should not be left outdoors.
Wipes and paper towels
Wet wipes should be used to wipe down the table if you come to the arranged place of rest. They can also be used to "wash" your hands after meals. Paper towels are needed to wipe your hands of dirt. Unfortunately, it is tissues and towels that you often forget to take on a picnic.
Disposable cutlery
Without disposable tableware and glasses, it's hard to imagine a traditional barbecue outing. Therefore, you need to take care of disposable plates, cups, cutlery, and other necessary utensils beforehand. Today there are eco-friendly options for disposable tableware that are produced without the use of plastic. For certain types of dishes, you can take regular glassware from home.
Corkscrew
The only thing that can ruin a barbecue trip with friends and a few bottles of good wine is the lack of a corkscrew. Do not forget to put this important item in your bag.
By the way, resourceful people have invented and successfully tested several tips that can be used to uncork a bottle, using improvised means. Read more in the article.
Earlier OBOZREVATEL told how to cook delicious pork shashlik.
Subscribe to channels OBOZREVATEL in Telegram and Viber to keep up with the latest news.