Trending:
What not to wash laminate flooring with: the floor can be completely ruined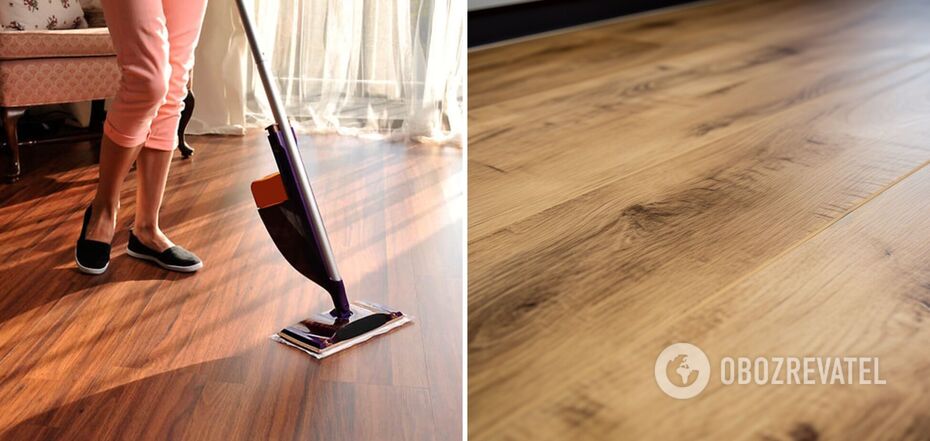 The laminate does not tolerate bleaches, moisture and high temperatures.
Laminate flooring has proven to be a reliable, easy-to-care for and hard-wearing flooring material. But it also has a weakness - not all products are suitable for cleaning it.
As OBOZREVATEL has found out, some popular floor care methods can destroy laminate. And it will soon have to be replaced with a new one.
What is laminate and what makes it sensitive to certain products
Laminate flooring is a high-density wood-fibre board that is pressed under high pressure and temperature and then covered with a decorative layer. A protective layer of melamine resins and other substances is applied on top of the laminate. They ensure the material's resistance to wear and tear.
Accordingly, the laminate is sensitive to agents that can destroy its protective coating. It also does not tolerate high humidity and high temperatures. Here are some of the products that can cause the most damage.
Bleach
Bleaches that contain the popular disinfectant ingredient sodium hypochlorite are not suitable for laminate flooring care. This substance destroys the protective layer of the coating, provokes the appearance of stains on it and significantly accelerates wear. Therefore, such cleaning along with disinfection should be discarded.
Oil, glycerine, wax or polish
Products based on fats and alcohols, even natural ones, destroy the laminate flooring as much as chlorine. In addition, such products will leave a cloudy film on the floor surface that will be very difficult to remove.
Steam mops
Steam cleaning is considered one of the most environmentally friendly and effective cleaning methods. And this is correct. But it is absolutely not suitable for the care of laminate flooring. After all, as we have already mentioned, laminate does not tolerate high temperatures and humidity. Under the influence of steam, it will begin to swell and collapse from the inside very quickly.
Abrasive cleaners
Any powdered or granular products can easily scratch the protective coating of the laminate. It becomes more vulnerable to aggressive substances and wear and tear. For the same reason, hard brushes or scrapers should not be used on it.
How to properly clean laminate flooring
This surface should be cleaned with a damp cloth or mop, not a wet one. If you use floor cleaning liquids, pay attention to the labelling on the label. The substance must be suitable for laminate flooring. You can also use baby shampoo to clean this type of floor. It is diluted at a concentration of 1 tablespoon per 5 litres of water, and then the floor is additionally washed with clean water to wash off the shampoo residue.
Earlier, OBOZREVATEL told how to clean a carpet with shaving foam.
Subscribe to OBOZREVATEL's Telegram and Viber channels to keep up with the latest news.