Trending:
What each side of the grater is for: not all housewives know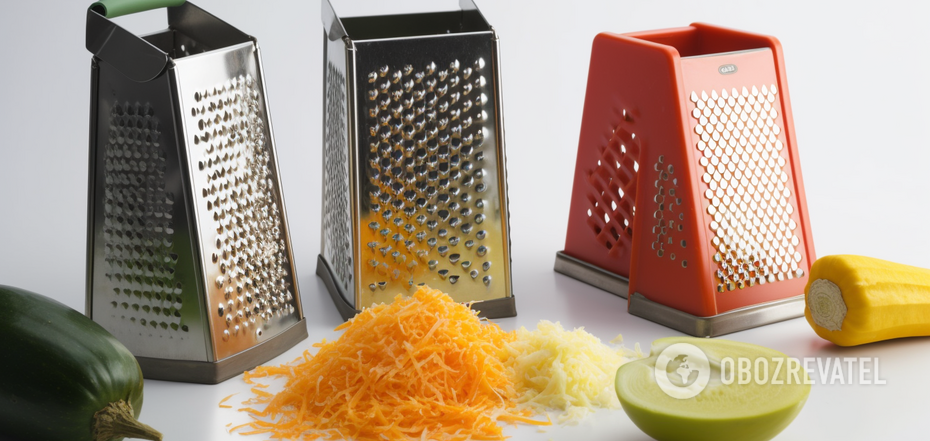 How to use the grater correctly
A grater is indispensable in the process of cooking many dishes. Of course, now there are many new products and various devices can speed up the process of chopping vegetables, but the good old grater is always useful.
More often use a large, so-called "beet" side of the grater. OBOZREVATEL analyzed the functionality of each side for grating.
Grater with large holes
This is the side most often used for grating vegetables, fruits and cheeses. It is called the "beet" side, because it is the side with the large holes that is used to grate beets for borscht.
It can also be used to grate boiled eggs and other ingredients for layered salads. Experts say that a large-hole grater will also be useful for baking: you can use it to grind hard butter to quickly make it soft or melted.
Tater with drop-shaped holes
A grater with small drop-shaped holes is used if you need to grate the same products as in the first case, but to a smaller size. This side is usually used for chopping vegetables when preparing baby food: salads, soups, fruit and vegetable purees.
Grater with large horizontal holes
The flat and wavy large holes are for cutting vegetables into rings or slices. They are not usually used by many people. Cooks use this side of the grater to cut onions or potatoes into rings of equal thickness to make perfect chips.
Spiky side
The spiky side of the grater can be used for chopping onions or garlic, as well as for making cream soups and baby purees.
Side with square holes
This side is also usually overlooked, and for nothing. It is this side that will help you shred carrots or cabbage for salads. This side is often made double-sided, which significantly speeds up the process of shredding vegetables.
Earlier OBOZREVATEL told about seven types of knives that should be in the kitchen.
Subscribe to OBOZREVATEL channels in Telegram, Viber and Threads to keep up to date.