Trending:
Tourist Vietnam: interesting locations, prices, crime situation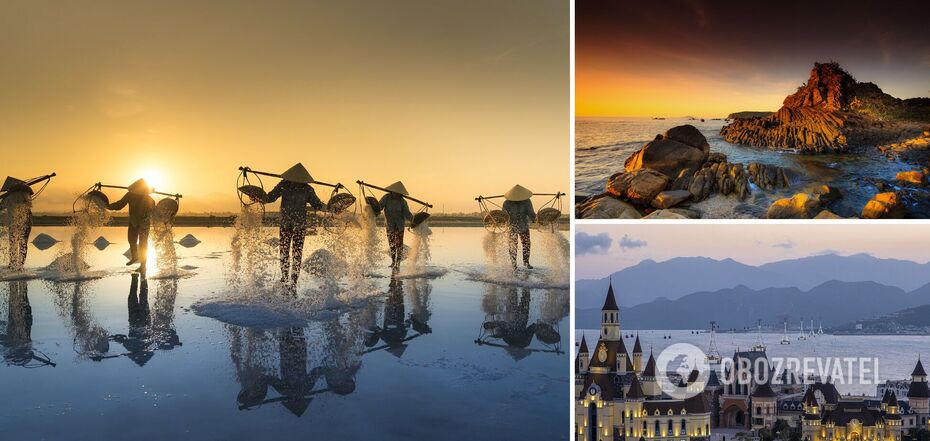 Tourist Vietnam: interesting locations, prices, crime situation
In vain, many tourists underestimate Vietnam. This country with its ancient history, thousands of years of temples, snow-white beaches, and high mountains can amaze anyone. Yes, unlike many popular resorts, it is a very low cost of living and eating.
How to get to Vietnam
Previously, you could get from Ukraine to Vietnam by plane with connections in Seoul, Bangkok, or Singapore. However, now there is another route, not too complicated.
First of all, you should take a train to Warsaw. From there, take a flight to Seoul and then on to Hanoi, the capital of Vietnam.
There are bus and train services in this country, so you can easily get from the airport to any resort.
Where to Stay in Vietnam
Here are the five most popular tourist destinations in this country:
Hanoi attracts tourists with its rich history, sights, traditional street food, and beautiful lakes. Here you can visit many ancient temples and spend time walking among unusual neighborhoods. However, be careful: there are quite a lot of robbers, for whom foreigners are easy prey.
Hoi An is a historic city in southeastern Vietnam, known for its wooden bridges, beautiful houses, long canals, and quiet beaches. In 1999 the city was listed as a UNESCO World Heritage Site.
Sapa (Shapa) is a great town for eco-tourism and family vacations. It is famous for its picturesque rice paddies and mountains. It is home to many ethnic minorities who are happy to introduce foreigners to their culture and traditions.
Nha Trang is a resort city on the southern coast of Vietnam, which is chosen by tourists because of the snow-white beaches and warm sea. There are many hotels, cafes, and restaurants, and a very large selection of attractions.
Dalat is a city in central Vietnam, known for its incredibly beautiful nature. Here you can enjoy the mountain lakes, flower gardens, and hiking trails. And there are also areas with well-preserved objects of French architecture.
Hotel prices in Vietnam
The cost of living in Vietnam is much cheaper than in other tourist countries. However, prices can vary greatly depending on the level of comfort, location, and season. You can orient yourself on these figures:
In the city of Hanoi, room rates for two hotels start at $15-20 per night and can go as high as $100 or even more for the more luxurious options.
In Ho Chi Minh City (Saigon), hotel prices can be a bit higher, starting at $20-25 per night for mid-range hotels and up to $150-200 for inexpensive suites. The same price policy is in the resort of Nha Trang.
A little cheaper would be living in Hoi An, where the prices for housing are up to $15-80 per night.
You can save a lot on travel if you stay in hostels or choose to vacation in the off-season. At this time it is best to go to the mountainous regions of Vietnam, where there are many picturesque places.
Food prices in Vietnam
Prices in Vietnamese stores will not be exorbitant. In this country, a fairly low standard of living, and therefore the products are inexpensive. For example, here are a few basic items:
Rice: $0.5-1/kg.
Fruits (bananas, pineapples, mangoes, papaya): $0.5-1/kg.
Vegetables (onions, garlic, carrots, cabbage): $0.3-0.7/kg
Meat: $3-8/kg
Seafood: $5-10/kg
Bread: $0.5-1/kg
Eggs: $0.2-0.3/kg
Prices in Vietnamese restaurants
Tourists often complain that Vietnamese restaurants have exorbitant prices. And it is very simple to explain: foreigners who do not know the local customs, choose eating places near the beaches, their own hotels, or any attractions.
However, in order to eat on a budget and tasty, you need to choose restaurants where the inhabitants of the country eat. The difference in the check will be significant.
Here are some approximate prices of dishes in restaurants in Vietnam:
Traditional Vietnamese food (e.g. pho, banh mi, banh chao, goi Cuong): $1-4 per serving;
European dishes: $5-15 per serving;
fresh seafood: $10-20 per serving;
fast food: $2-5 per serving.
On average, dinner for two will cost $20-70.
Crime in Vietnam
Tourists often have a question about how safe it is to vacation in Vietnam. Unfortunately, as in many other countries in the region, there are significant problems with crime. However, in tourist areas, they are not too manifested.
The main danger that foreigners may face is frequent theft. So it is not advisable to carry large amounts of cash and wear jewelry.
Earlier OBOZREVATEL told about the most popular resorts that everyone should visit.
Only verified information in our Telegram channels Obozrevatel and Viber. Do not be fooled by fakes!