Trending:
Top paradise resort towns around the world: incredible vacations for only $500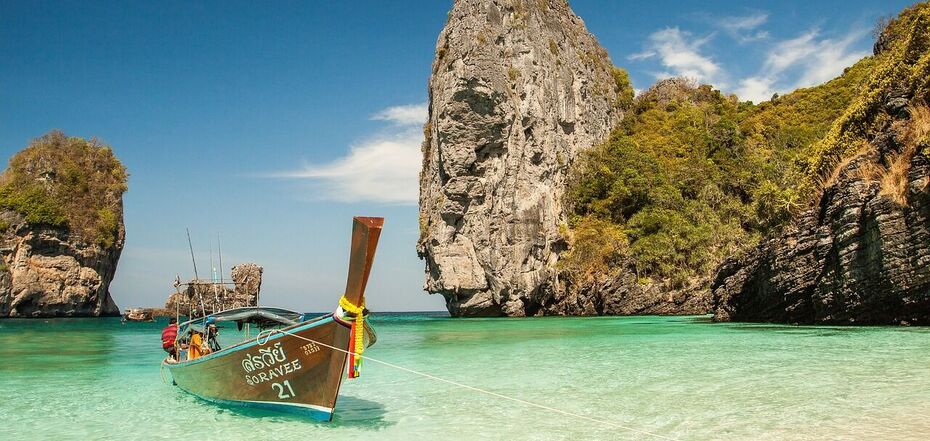 Magical beaches among the ocean. Source: Pexels from Pixabay
Although the prices of flights and accommodation are rising all over the world, there are options for a budget and quality vacation.
For as little as $500, you can get a full range of services in a variety of locations around the world, Insider writes.
Paradise in the Gulf of Mexico
In Valladolid, located on Mexico's Yucatan Peninsula, for about $300 you can book three nights in a decent hotel with breakfast and access to a pool, jacuzzi and sun terrace. The hotel is located in the heart of the historic city.
Meals don't have to be expensive, as there are many restaurants in Valladolid where food costs as little as $10 per person. Among the attractions is a stunning underwater vortex with crystal clear water, formed centuries ago, in which you can swim.
Afterwards, you can visit the archaeological sites of what was once a Mayan city and attend a tequila tasting.
Incredible Venice in the Heart of China
The Chinese metropolis of Suzhou is called the local Venice of numerous ancient waterways, bridges, and canals, and the city's classic gardens are a UNESCO World Heritage Site.
For a total of about $150, you can stay three nights at a local guesthouse hotel, which also serves breakfast for $4.
Keep costs down with a free waterway ride by the historic 12th-century road with traditional architecture, original stores and tea shops. Within walking distance is the Suzhou Museum, where Chinese paintings, calligraphy and ancient artifacts can be seen for free. Inexpensive tours of ancient parks and palaces are also available.
As for restaurants, you can sample Suzhou's food on a local guide's gastronomic tour. The three-and-a-half-hour experience costs $55 per person, and participants will taste all the variety of Chinese cuisine.
Clean, free beaches near Barcelona
The coastal Spanish town of Cijas is known for its fresh seafood, amazing beaches and art history. The famous Barcelona, which is about 40 minutes away.
For about $369 you can get two nights in a beautiful resort-style boutique hotel with an outdoor pool and free breakfast.
Many hotels are about a 10-minute walk from several of the city's 17 beaches, which are free to access, including several nudist beaches and a number of LGBT-friendly beaches.
A must-see for art lovers is the Museus de Sitges, a group of five art and sculpture museums located in connected buildings by the beach.
A foodie's paradise: the gastronomic capital of Italy.
Italian Parma, dubbed the "creative city of gastronomy" by UNESCO, is often referred to as a gourmet haven. It produces famous cheeses, prosciutto and balsamic vinegar.
Tidy boutique hotels in the historic heart of the city cost about $110 a night. A highlight is usually the famous gastronomic tours, which for a full day costs about $150 and includes a local guide and minibus transportation. Stops include a dairy farm to see how Parmigiano Reggiano is made, a Parma ham factory in nearby Langirano to sample aged prosciutto, and a balsamic vinegar factory in Modena.
Don't miss a visit to the Teatro Regio di Parma, an opera house built in the 1820s, to catch an opera, ballet or musical performance. There's also a bookstore there, and for about $7 you can take a tour of the theater.
Hot Springs in the Midst of Japanese Winter
The city of Kinosaki in western Japan is world famous for its hot springs. This amazing town is located about two and a half hours by train from Kyoto.
Each spring is unique in design, but they all have outdoor or indoor baths or both, and some have saunas and garden areas. You can purchase individual day passes to the springs for about $5 to $6 each.
The famous local Onsenji Temple is considered the guardian temple of onsen, and a visit was a traditional way to prepare for the hot springs and ask for a blessing to receive the supposed healing properties of the water.
The price of a traditional Japanese tavern includes a day pass to all the local hot springs, where you are likely to spend most of your time.
For about $180 per night, you will be offered breakfast and dinner, a multi-course meal with complex small dishes that is a local specialty.
Eco-hotel and elephant farm in Thailand
In the north of Thailand is the city of Chiang Mai with its lush greenery and ancient temples. For about $200, you can spend two nights in boutique hotels near local villages and picturesque rice terraces.
Many hotels adhere to eco-friendly practices, such as the use of energy-efficient lighting and water-saving appliances, and have a rooftop landscape pool with scenic views.
The famous Thai massage costs about $10 to $40, depending on the length and type of massage.
Experienced tourists advise - avoid companies offering elephant rides or bathing, but instead visit the elephant rescue reserve.
For about $300, you can book a two-day, one-night stay at the reserve that includes lodging, food and transportation. During your visit, you will hike through the forest with a guide to find and observe elephants in their natural habitat.
Iceland's glaciers and black beaches
The small Icelandic fishing town of Gebn with a population of about 1,800 is a great vacation option. It is located on the southeast coast and has beaches and natural trails.
A group of local small cottages offer two-night stays for $200. Guests share bathrooms, and the cottages are within walking distance of a community heated pool.
Among the activities is a trip to Jokulsarlon Glacier Lagoon for a boat tour. The tour includes a boat ride between massive glaciers and a chance to see seals. There's also free parking, where it's worth stopping to see in person the unique black sand dotted with chunks of ice.
Local restaurants with Icelandic cuisine such as smoked Arctic char, lamb and lobster offer meals from $16 to $41.
A Picturesque Australian Corner on the Indian Ocean
Surrounded by the Australian outback and the Indian Ocean, the Australian city of Perth has a lot to offer.
Hotels offer overnight accommodations for about $130 per night. Rooms have kitchenettes with mini-fridges. Guests can discover the heated pool and exercise room.
For about $40 per person, you can take a scenic cruise around the Swan River. The trip includes a guide who shares information about the sights you'll see along the route.
To explore Perth without rushing, you can book a sightseeing bus tour with drop-off and pick-up for about $30. The bus visits 12 attractions.
You can also take a tour of the Perth Mint, a maker of precious metals and coins in operation since 1899. The 60-minute tour costs about $15.
A vivid vacation in the heart of the Turkish Mediterranean
The Turkish resort of Bodrum has white sand beaches and a Mediterranean atmosphere. The weather is mostly mild year-round.
For about $49 a night, you can stay in a hotel that includes breakfast and free parking. The hotel has a pool and the beach is within walking distance.
In terms of must-see Bodrum, you can visit the Mausoleum in Halicarnassus, an ancient tomb and archaeological site that costs less than a dollar to enter. Also Bodrum Castle, a 15th century fortress with a museum of ancient artifacts found during excavations in the ocean.
As for a nature tour, you can take a full day excursion to Pamukkale, a natural wonder and site of mineral springs that have created attractive white travertine over the centuries.
And if you want to try your hand at Aegean Turkish cuisine, you can take a cooking class for about $120 per person, which includes a trip to a local farmer's market. The meal you'll help include traditional dishes of four cold appetizers, a first course, a main course and a dessert.
Safari with five African animals in Kenya.
Kenya's capital, Nairobi, is where many people go to see Africa's big five animals: African savannah elephants and buffalo, leopards, lions and rhinos.
A safari can be an expensive excursion with luxury options that can cost thousands of dollars a night, but with careful planning there are ways to do it on a limited budget.