"Standing with a shovel - and the Grad shelling starts": sports journalist tells about his service in a Special Forces regiment"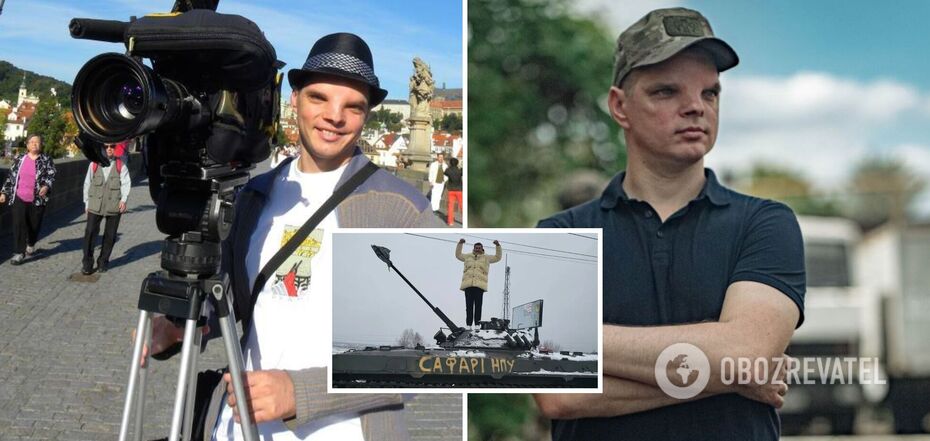 Yurii Trokhymchuk wanted to protect his family and country
Yurii Trokhymchuk, a sports journalist and former press attaché of the Ukrainian Boxing Federation, tried to join the Armed Forces back in 2014, but was not accepted due to lack of proper training. However, after Russia's full-scale invasion, Yurii found his place in the Safari Special Forces Regiment, which has been defending Ukraine since the spring of 2022, and joined the new Lyut assault brigade of the National Police.
In a conversation with OBOZREVATEL, Trokhymchuk recalled how in February, he and his family lived in a bomb shelter for five days, learned to dig trenches in the Zaporizhzhia sector and came under fire from Grad rockets. He also spoke about the assault on Yampol, the work of his regiment and the meeting of Safari fighters with boxer Oleksandr Usyk.
- Do you remember February 24? How did the full-scale invasion begin for you?
- Time seemed to shrink back then. The first week of the invasion was like one very long day. One of my favourite war films, Dunkirk by Christopher Nolan, conveys a similar concept of time. There were almost no soldiers in my surroundings, but in fact, in such periods of life, everyone becomes a fighter! It's just the level of responsibility is different for everyone. My main task then was to protect my family: my wife and little son.
For the first five days, we actually lived in a bomb shelter. Explosions were constantly heard in our neighbourhood, and we, ordinary civilians, could not yet distinguish the origin of these sounds: when air defence systems were working, and when there were rocket attacks... A rocket fragment hit a residential building in the neighbouring street... I know for sure that panic is the worst ally at such a moment, and I tried to protect myself and my wife from it.
I must admit that I felt calmer inside when we made a joint decision that my wife and son would live abroad for some time. It freed my hands and my head to fulfil my greatest aspiration - to be needed by my country and to contribute to the fight against the enemy.
- Did you have any military training before that?
- I can say that I had zero relations with military affairs, except for the lessons of the PVP at school. At the university, we did not have a relevant department. After Russia's invasion of Crimea in 2014, I immediately went to the military registration and enlistment office, where I was "taken into consideration", but only in words... In the spring of 2022, I made two more attempts to join the Armed Forces, until I was told in a "popular" way that people without experience were not yet in demand.
But often important things in our lives happen by themselves. In the newly created unit of the National Police of Ukraine, the Safari Special Forces Regiment, there were many guys who were closely involved in sports - boxing, MMA, and other martial arts. Thanks to the connections I had from my work at the Ukrainian Boxing Federation, I found out that there were vacancies for "journalists" in this unit. I put this word in quotation marks because the position of "journalist" does not exist in the staff list.
In the first months of the war, there was no time for officialdom, no one thought about bureaucracy. You are either "here and now" - together with the guys, in a team united by a common military task, or you stay at home.
- How did your family react to the fact that you were going to war?
- I made the decision on my own. The issue of personal safety and the safety of my family always comes first. But we cannot stay away from what is happening around us when the future of our country is actually at stake.
Of course, my parents were worried, but they understood me completely. I am also grateful to my wife, who supported me morally and sent me amulets, and, of course, to my son for inspiring me.
- Tell us about the Safari Regiment and your area of work.
- Since the beginning of Russia's full-scale invasion, the National Police of Ukraine has created consolidated units that perform special tasks to support the military, to "clean up" settlements, conduct assault and attack operations, and identify enemy positions... One such unit is the Safari Special Forces regiment. In general, our fighters perform a wide range of tasks on the front line: we have scouts, snipers, aerial reconnaissance specialists whose work helps our artillery to adjust fire on enemy positions.
In addition, our unit works closely with other military formations during the "clearing" of settlements. All of this has been gaining momentum since late March and early April last year in the Kyiv region, when our regiment's soldiers were performing the relevant work in Irpin and Bucha. When our army liberates another town or village, the situation can be different: the enemy often leaves ambushes, not to mention mines... Who said that police officers do not fight?
I won't talk about my line of work for a long time. I will only say that since May last year, I have been acting as an inspector of the regiment's headquarters. I am pleased that even here I have the opportunity to work in my main profession as a journalist, although this is not my main responsibility now. Communicating with the soldiers, conducting live interviews is something that gives me pleasure and distracts me from the routine that sometimes catches up with you. My dream is to write a book about the history of our special unit.
- In what areas of the frontline, apart from the Kyiv region, did the Safari fighters have to perform tasks?
- Our personnel took an active part in the liberation of the Kharkiv region from the occupiers last autumn. They also fought in Sumy, Zaporizhzhia and Donbas, where, in particular, they held defence in the hottest area - Bakhmut.
After moving to the Donetsk sector, the guys were directly involved in assault operations. Unfortunately, there were heavy losses during these months. However, the regiment fulfilled its tasks without fail. We worked to destroy the enemy and liberate our territories - alongside and in close cooperation with other military units.
- Can you single out the most difficult battle of the unit during your service?
- One of the most significant operations was the assault on the city of Yampil in the Donetsk region. The role of our soldiers in the de-occupation of this town was decisive. Safari soldiers were the first to enter the city. The video of the firefight with the enemy probably went viral on all social media. Our guys showed excellent results in destroying the occupiers - they "eliminated" several dozen enemies. However, one of our comrades also died heroically.
- What was life at the front like? Where did you have to live? What was the hardest thing to get used to?
- Perhaps the most difficult thing was to get used to the strict discipline that is a necessary condition for existence in a team like ours. For many years I lived, so to speak, in an atmosphere of relative creative freedom. So this transition was not easy.
I remember how in the summer (when we were working in the Zaporizhzhia area) we were stationed at the base that was to become our main base - from there the guys went directly to combat missions. It was a couple of tens of kilometres from the base, so it would seem that you could feel relatively safe. However, other guys started digging trenches for themselves on the very first day. But it took a few extra days and a good nudge from the chief of staff for my colleague from the press service, Pasha Dobryanskyy, and me to put aside our laziness and take up shovels.
And then the next scene: I'm standing with a shovel in hand at the bottom of a deep hole, about to put the "final touch" with a trench, when enemy shelling from Grads starts. That's how our brand new trench received an instant baptism of fire. And we just expressed our gratitude to our chief, Sanych, for his teaching.
In general, I am overwhelmed with pride for our regiment, for the team, which has an atmosphere of brotherhood, where everyone is always ready to lend a shoulder. The great merit of this is the commander, Police Colonel Vasyl Vikonskyy, who listens to every soldier. We always put people and human life first. I think this is our fundamental difference from the enemy.
- Where are you now, what is your unit doing?
- Our regiment is currently undergoing the stage of manning up and combat coordination. We are actively recruiting new members. First of all, the unit is interested in motivated people, preferably with military service experience, combat experience, but not necessarily. Willpower and a desire to defend their country are of great importance.
Not everyone has a military speciality, so these can be people from different professions. For example, a motivated athlete with certain skills comes to us, and we will take him or her in and train him or her. There is also a significant demand for paramedics. We also need mechanics-drivers, sappers, and people for other positions. At the same time, the soldiers of our regiment are constantly improving, working at training grounds, honing their combat skills.
- By the way, I recently saw a photo of the Safari fighters with the world heavyweight champion, boxer Oleksandr Usyk.
- In fact, it was a chance meeting. As the guys told us, Usyk was driving along that road and saw our IFV fly off the trawl. Oleksandr stopped to see if everyone was alive and well, and he was also curious about the unit that was transporting them. The soldiers of our regiment said that Usyk was a good guy, "simple as a door", he took pictures with everyone and shook hands with everyone - a sincere Ukrainian.
- When you return from the war zone to Kyiv, what is the biggest contrast?
- I would not like to talk about any contrasts. I don't agree with the criticism that the military often makes of the rest of Ukrainian society, saying that "while some are fighting, others are sitting in cafes and restaurants in big cities". I think it's the other way round - for perhaps the first time in our recent history, our country is truly united. And even those cafes and restaurants have to work for someone, because this, along with operating enterprises and small and medium-sized businesses, is the key to a strong economy.
- You've been a sports journalist for a long time. Did you have time to follow any events at the front and did you have any desire to do so?
- Sport has always accompanied me through life. Nowadays, the system of priorities has changed significantly, but this does not mean that I do not follow the news, and if I can watch a football match, it is a luxury for which we should thank our defenders. I try to keep in touch with my old friends and former colleagues at the newspaper Komanda.
During the 2022 FIFA World Cup in Qatar, our company did not change traditions and organised a friendly tournament of forecasters. By the way, the level of participants has become even higher since our friends, former Ukrainian national football players Serhii Kravchenko and Roman Bezus, started joining us.
Naturally, everyone is now concerned about the International Olympic Committee's further position on the suspension of Russian and Belarusian athletes from international competitions. In some sports, athletes from the occupying country already have the opportunity to compete under a neutral flag, and there is talk of allowing them to participate in the 2024 Olympic Games in Paris. The overly loyal attitude towards the Russians by FIFA, as well as in boxing and tennis, is very disappointing.
I believe that the position of our federations should be clear on this issue and not allow for compromise. Remember how the whole world supported us in February-March 2022. And in the minds of many people, there is no longer and will never be a place for slogans like "sport is out of politics".
- What are your impressions of our enemy during your service?
- I have strong emotions towards him, but no, it's not hatred. I feel contempt and disgust for Russians! And I think this is a common emotion for many Ukrainians. Every time I open Facebook and see another obituary or another news item about the shelling of a peaceful Ukrainian city, I remind others, and above all myself: "Our Russophobia is still not enough."
Earlier, OBOZREVATEL told how a Ukrainian journalist returned from Spain to join the Territorial Defense, clearing the Kyiv region and liberating the Kharkiv region.
Only verified information on our Telegram channel and Viber. Don't fall for fakes!