Trending:
Scientists forced cancer cells to kill themselves by producing bacterial toxin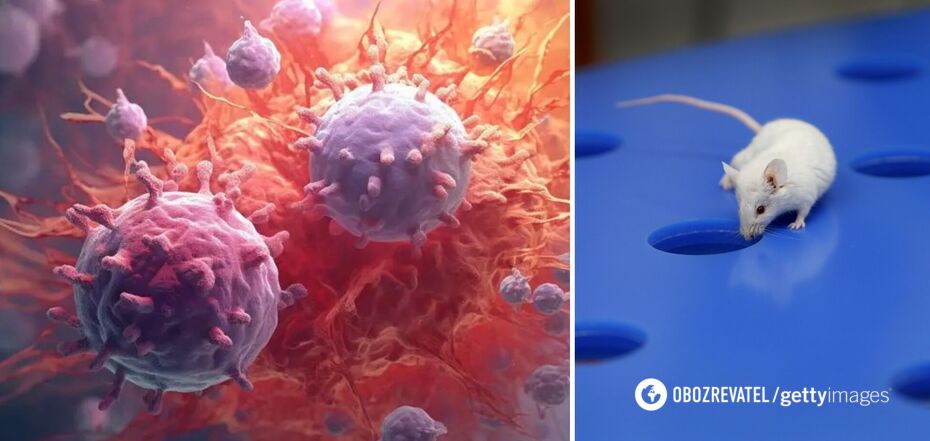 The method has proven effective in treating skin cancer in mice. Source: Scitechdaily/Getty/OBOZREVATEL collage
Scientists at Tel Aviv University (TAU) for the first time succeeded in encoding a bacteriological toxin into messenger RNA molecules that delivered it to cancer cells and caused them to actually kill themselves.
The results of the study were published in the journal Theranostics. The groundbreaking study was led by graduate student Yasmin Granot-Matok and Professor Dan Peer, a pioneer in the development of RNA therapy, head of the nanomedicine laboratory at the Shmunis School of Biomedicine and Cancer Research, and TAU's vice president for research and development.
"Our idea was to deliver safe mRNA molecules encoding a bacterial toxin directly to cancer cells, inducing them to produce a toxic protein that would later kill them. It's like putting a Trojan horse inside a cancer cell," Peer said.
He noted that unlike chemotherapy, which kills both cancerous and healthy cells, the new method has a clear goal and does not cause unnecessary harm to the cancer patient.
Scientists first encoded the genetic information of a toxic protein produced by bacteria of the pseudomonas family into mRNA molecules. A similar technique was used to create an mRNA vaccine against COVID-19, when the genetic information of the adhesion protein COVID-19 was encoded into mRNA molecules.
Subsequently, a nanomedicine laboratory led by Peer developed lipid nanoparticles into which the mRNA molecules were packaged. These particles were also coated with antibodies to make sure that the "instructions" from the mRNA to produce the toxin reached the cancer cells specifically.
The particles were then injected into test mice that had skin cancer.
"When the cancer cell reads the 'instruction,' it begins to produce a toxin as if it were a bacterium itself, and this self-produced toxin eventually kills it. Thus, by a simple injection into the tumor bed, we can make the cancer cells 'commit suicide' without damaging the healthy cells," Peer noted.
He also added that cancer cells will not be able to develop resistance to this technology, as often happens with chemotherapy, because the scientists only need to replace the natural toxin.
Tests showed that the first injection of such a drug killed 44-60% of cancer cells.
According to the professor, using the pseudomonas bacterium specifically and testing it against melanoma cancer is only "a matter of convenience."
Peer suggests that most of the toxins produced by anaerobic bacteria, especially those living in the soil, could probably be used in this method.
"This is our 'recipe,' and we know how to deliver it directly to target cells with our nanoparticles," the scientist explained.
Previously, OBOZREVATEL also told that scientists have figured out how to defeat the Everest gene, which causes the growth of cancerous tumors.
Subscribe to OBOZREVATEL channels in Telegram and Viber to keep up with the latest developments.