Trending:
Russia's most accurate weapon: how to protect yourself from kamikaze drones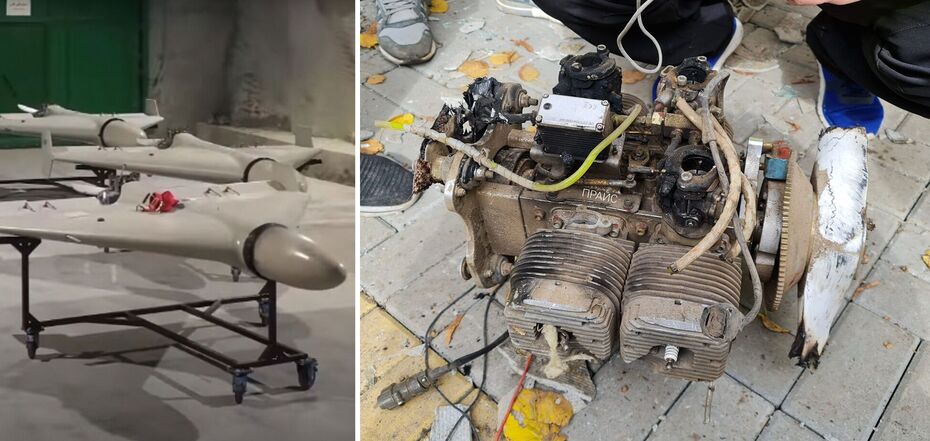 The Shahed-136 kamikaze drone. The engine of this drone
Combat use of Shahed-136 (Geranium-2) kamikaze drones: Russia's most accurate long-range weapon, how to protect yourself and when will we start doing our part?
1. The Shahed-136 is a barrage munition that flies and hits a target according to coordinates. It is used as a long-range weapon with the same targets as cruise and ballistic missiles, most of which are exhausted in the Russian Armed Forces. A quiet drone, which can be seen by radar and heard at a distance of up to 10 km, uses tactics to hit targets deep in our territory, and so far, apart from increasing the number of air defence assets at important sites, we have been unable to prevent them. The warhead is much smaller than Russian missiles - about 40 kg.
The following text is in the original language.
2. Shahed-136 is the Russian Army's most highly accurate weapon, thanks to a guidance system that receives data from four satellite navigation systems - GLONASS (Russia), Beidou (China), Galileo (European Union), GPS (United States). The Russian missiles do not have such accuracy - they use only GLONASS, while Shahed-136 receives data from several satellites and corrects the route and point of impact at the expense of several navigators. The drone has no surveillance channel and cannot attack manoeuvring targets. It is a weapon to hit static targets.
3. How did Iran manage to reach this technological level? There is nothing unusual about Iranian technology, because the basis of the drone's effectiveness is the procurement of microchips made in South Korea and Malaysia, using US ALTERA/INTEL technology. We have all these chips in our hands now, that's a fact. In other words, the Iranians are getting access to the technology, which they are buying through a network of intermediaries on the open commercial market, the chips are available, bypassing sanctions. Hopefully, we will give maximum publicity and this will limit Iran and Russia's ability to buy such microchips from the world. Perhaps the supplier can be tracked down.
4. When using Shaheds, the enemy tries to ensure maximum stealth, by reducing radio communication, laying new routes, minimum flight altitude. They try to confirm the target with intelligence and electronic reconnaissance data, prioritizing locations where personnel and ammunition depots are concentrated. There is a certain logic in determining the targets. The Russians are trying to conduct reconnaissance of the route of approach to the target in advance in order to identify the operation of our air defence assets. They send drones ahead for reconnaissance, looking for a route where radars are not working. The engine is very loud, i.e. the sound can be heard up to 7-8 km away, if observation posts hear the sound in advance, there will be enough time to disperse the personnel. This will avoid casualties. If one listens to the air, even in the absence of air defenses, Shahed-136 will not be able to launch a surprise strike. It is much less of a threat than Kalibers and Iskanders.
5. This is a challenge and a requirement for the immediate deployment of large-scale drone production programmes in Ukraine. Iran had no aviation technology, no designers, no engineering schools. They bought a licence in the 90s for our civilian Antonovs because they had no experience at all. But now Iran is far ahead of Ukraine and Russia in creating attack drones. They did this under years of sanctions that significantly limit their ability to do anything at all. And they have made a low-cost weapon that is absolutely affordable to produce in Ukraine, and we can do it at a much higher technological level.
We have access to more advanced Western technologies, we have the budget to develop different types of drones - this is real money even in our conditions, we have engineering staff, we have several design bureaus that could develop different types of drones even on a competitive basis if a defence order and funding are determined. But all of this requires a set of government programmes, a strategy, a system of work, competence in setting technical specifications and project evaluation, and the development of technological capabilities.
Drones are the weapon of the future, and we have no right to lag behind Iran and Russia in the development of this key technology of modern warfare, we have every opportunity to gain an advantage. Iranian drones are the result, first and foremost, of a competent, targeted state policy.
Photo of the engine of the Iranian drone that hit Bila Tserkva at night by Serhiy Mysiura.
We thank our experts for the competent analysis of the Shahed-136 control systems: Serhiy Flash, Volodymyr Yatsenko