Trending:
Quick quenched tomatoes: you can eat them in three days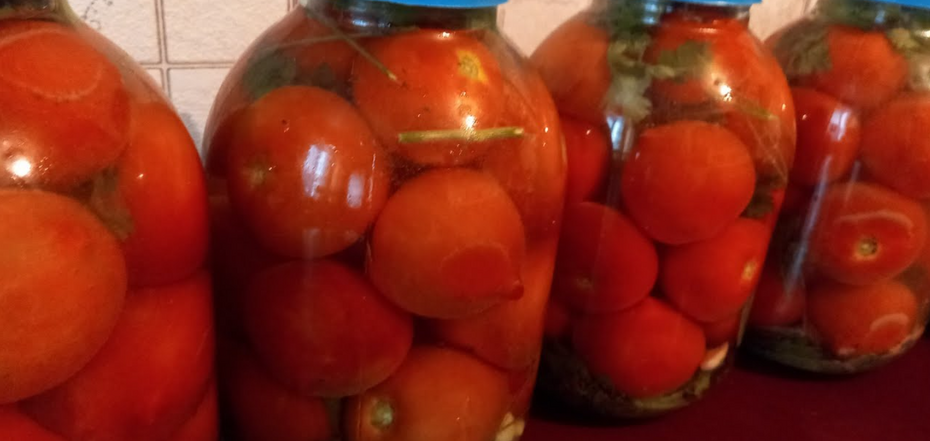 A recipe for quenched tomatoes in three days
Quenched tomatoes are a delicious and original snack. This way of cooking tomatoes are juicier, firmer, have a unique flavor and aroma.
The editors of FoodOboz have selected for you the easiest recipe for quick-cooking quenched tomatoes, which can be eaten in three days. It should be noted that there is no need to add vinegar to the brine during cooking, so the tomatoes taste like barrel tomatoes.
Ingredients:
tomatoes - 3 kg
celery - 1 bundle
garlic - 1 bulb
dill (or 2 tablespoons of dill seeds) - 1 bunch
hot pepper - 1 pod
salt - 1 liter of water - 2 tablespoons
sugar per 1 liter of water - 2 tbsp.
Method of preparation:
1. Cut off the tops of the celery with the greens, and cut the stalks into pieces about 10 centimeters long. Dill should be placed in jars whole.
2. Tomatoes are washed, wiped and cut out the place where the stalk was placed. This way the tomatoes will be salted faster. Place them in the jar upside down.
3. Pour 3 liters of water into a saucepan, bring it to the boil, add salt, sugar and paprika. Add the celery stalks to the boiling water and immediately remove them with a slotted spoon.
4. All the greens and garlic cloves put in a jar. Pour all the brine. However, 1 tbsp of brine is better left in case the tomatoes absorb the water. Then we will have to add a little more the next day. In this form, cover the jar with a plate and leave for three days.
5. After three days the brine will be cloudy and bubbles will appear on the surface. This means that the snack is ready. Then you need to close the jar with a lid and put it in the fridge.
Also on OBOZREVATEL you can read the recipes: