Trending:
Putin was offered to resign Gerasimov and Shoigu before the election - Bloomberg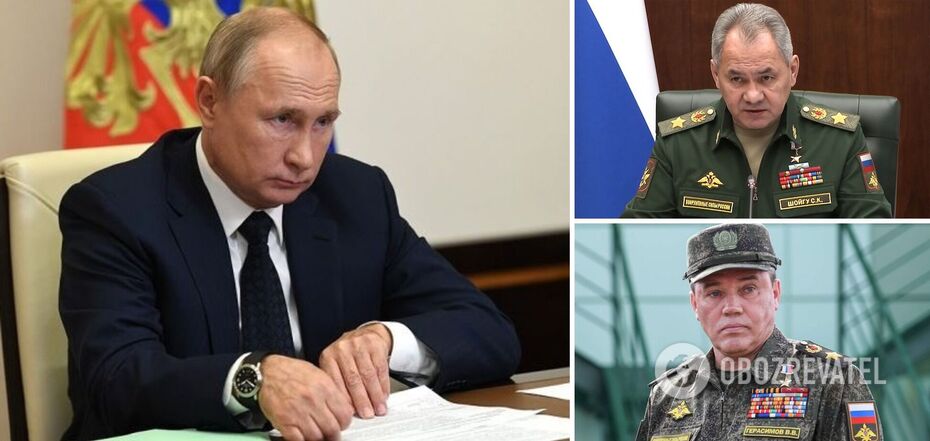 Putin was offered to fire Gerasimov and Shoigu
Russia is thinking about the next presidential election and the preservation of the current power vertical, the authority of which has been shaken by the not quite successful war against Ukraine and the recent mutiny of the head of the PMC "Wagner" Yevgeny Prigozhin. In this context, hawks from the FSB recommend Putin to resign Defense Minister Sergei Shoigu and Chief of the General Staff of the Russian Armed Forces Valery Gerasimov.
This is reported by the American edition of Bloomberg with reference to its sources in the FSB. According to the publication, discontent is still simmering in the Russian security service over Russia's failures on the battlefield, the responsibility for which is proposed to be placed on Shoigu and Gerasimov.
"Many domestic elites were stunned by Putin's weak response to the mutiny and subsequent failure to punish Prigozhin, raising concerns among officials about the potential for high-level internal fighting or further problems. Frustration over Russia's failures on the battlefield still smolders in the security establishment," Bloomberg writes.
It is noted that Prigozhin's main targets of attack - Defense Minister Sergei Shoigu and Chief of the General Staff Valery Gerasimov - still remain in their posts, but his attempt to remove them had some support in key state security agencies.
"According to five people with knowledge of the situation, hard-line security supporters want Shoigu's replacement as part of a shift to a more aggressive continuation of the war, including full-scale mobilization and martial law," the piece says.
At the same time, the publication notes that there is no indication yet that Shoigu and Gerasimov will be eliminated.
As is known, the presidential election in Russia is to be held on March 17, 2024. The election campaign should begin after their appointment in December 2023. According to the amendments on the "zeroing" of presidential terms made to the Constitution in 2020, Putin will be able to serve as president until 2036.
Earlier OBOZREVATEL reported that in the administration of Vladimir Putin back in January began to work out different scenarios of elections, including with the participation of the current President. Russian media wrote that Putin wants to hold elections in 2024 and take part in them, although he has not officially announced this yet.
According to Alexander Motyl, a professor of political science at Rutgers University in New York, after Russian President Vladimir Putin steps aside, a violent power struggle between extreme right-wing nationalists will begin in Russia. This struggle will strip Russia of what remains of its military capabilities and will likely lead to the breakup of the country.
Only verified information at our Telegram channel Obozrevatel and in Viber. Do not fall for fakes!