Trending:
Powerful kilonova explosion formed gold and platinum that are 1,000 times heavier than Earth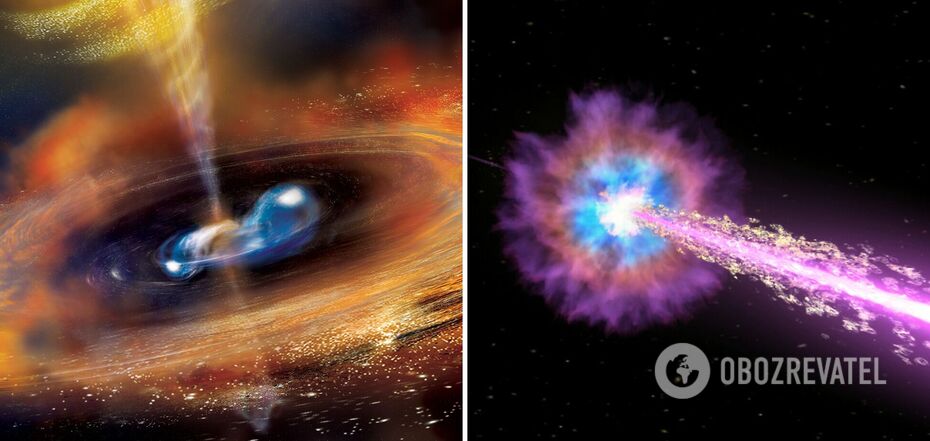 Typically, gamma-ray flashes after neutron star mergers last a matter of seconds. Source: NASA/OBOZREVATEL collage.
An international team of scientists has investigated an extremely powerful gamma-ray burst caused by the collision of neuron stars, or a neuron star and a black hole. The explosion produced gold and platinum, with an approximate mass 1,000 times that of the Earth.
The scientists reported the study in a paper for the journal Nature Astronomy. The gamma-ray burst itself, dubbed GRB 211211A, was detected back in December 2021 by NASA's Neil Gerrels Swift Observatory and the Fermi Gamma-ray Space Telescope.
The GRB 211211A gamma-ray burst detected in a neighboring galaxy lasted about a minute, a relatively long burst that usually indicates that a supermassive star has collapsed and become a supernova. But the scientists' observations revealed an excess of infrared light and, unlike a classic supernova, this event was much fainter and faded faster. So the researchers realized something else was going on.
The analysis found that the infrared light detected in the flare came from a kilonova. This is a rare cosmic event that is thought to occur when neutron stars or a neutron star and a black hole collide.
Such explosions produce heavy elements such as gold and platinum that explode into space.
That said, normal gamma-ray flashes associated with kilonovae last less than two seconds, while this one lasted about a minute.
"We found that this single event produced very heavy elements with a mass about 1,000 times that of the Earth. This supports the idea that these kilonovae are the main gold factories in the Universe," Dr. Matt Nicholl, Associate Professor at the University of Birmingham, told the paper.
The kilonova spawned by GRB 211211A is the closest of those discovered without gravitational waves. Its distance from us by just 1 billion light years has given scientists the opportunity to study the properties of the merger in unprecedented detail.
"This has been a remarkable GRB. We don't expect mergers to last more than two seconds. But this merger somehow powered the jet (gamma-ray bursts) for almost a full minute. Perhaps this behavior can be explained by a long-lived neutron star, but we can't rule out that what we saw was a neutron star being torn apart by a black hole," SciTechDaily quoted University of Birmingham associate professor Dr. Benjamin Gompertz, PhD, as saying.
According to him, the study of more such events will help determine which answer is correct, and the detailed information obtained from GRB 211211A will be "invaluable to this interpretation".
Earlier OBOZREVATEL told about the fact that in space there was a "perfect" explosion that makes no sense and contradicts the laws of physics.
Subscribe to OBOZREVATEL channels in Telegram and Viber to be aware of the latest events.