Trending:
Life may exist on the Moon: NASA made a sensational statement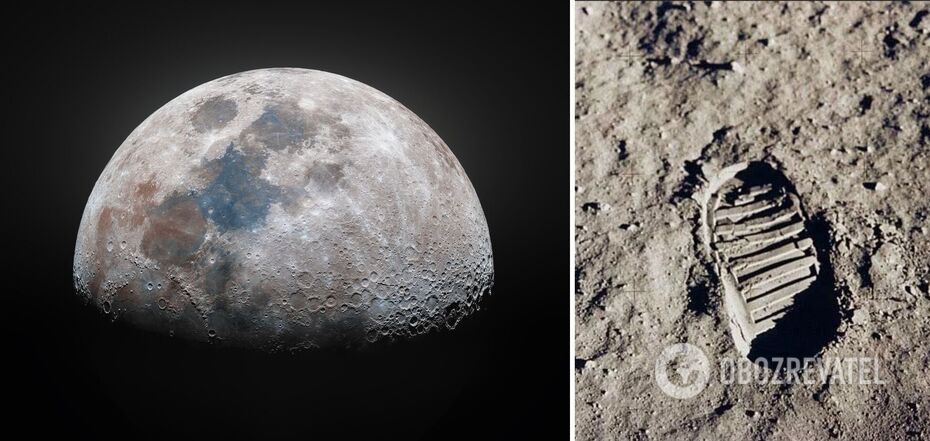 There are protected areas on the Moon where microbes could survive. Source: Andrew McCarthy/NASA/коллаж OBOZREVATEL
Despite the fact that the Earth's satellite, the Moon, may look like a huge round stone devoid of any life, NASA believes that things may not be so clear-cut. There is a possibility that shadowed lunar craters are home to microbial life.
This was stated by Prabal Saxena, a planetary researcher at NASA's Goddard Space Flight Centre, in a commentary to Space. The astronauts who are due to land on the lunar surface in late 2025 may not be the first living organisms to do so.
Saxen noted that recent research into the possibility of microbial life on airless space bodies supports the theory that "there may be potentially habitable niches in relatively protected areas."
In the case of the Moon, he said, microbial life could have found refuge in the permanently shaded craters at the Moon's south pole. No human has ever set foot on the Moon's south pole, but scientists know that there is ice in craters there that can be mined for rocket fuel.
Some regions of these craters are permanently shadowed, so harmful solar radiation would never reach these lunar pockets, which could be a safe haven for microbes.
Saxen, in particular, wonders whether life forms that originated on Earth could have survived the "journey" there. This question is very relevant right now, as NASA is choosing a place near the South Pole to land the upcoming Artemis 3 mission. Currently, there are 13 options for a lunar landing site.
Saxen and his team recently presented a study on potential landing sites and also called for consideration of the possibility that microbial life survived on the Moon.
The source of the microbes, according to scientists, could be meteorites that fell to the lunar surface. Although experts note that there is no guarantee that microbes would have survived such a journey to the Moon.
There is another possibility for a bacterial life form to appear on the Earth's satellite. It could have been brought there by humans themselves. Either during one of the manned missions, or when in 2019 the lander crash led to the release of silent lunar microorganisms - microorganisms that can survive in almost any conditions, for which they were called the most hardy creatures on Earth.
NASA organic geochemist Heather Graham suggests that the most likely explanation for the appearance of bacteria on the Moon is a human footprint. Therefore, even if astronauts find bacteria in the lunar soil, they will be of terrestrial origin.
Earlier, OBOZREVATEL also reported that debris from the ancient planet that "gave" us the Moon was found under the Earth's surface.
Subscribe to OBOZREVATEL's Telegram and Viber channels to keep up with the latest news.