Trending:
How to remove old stains from a mattress: it will look like new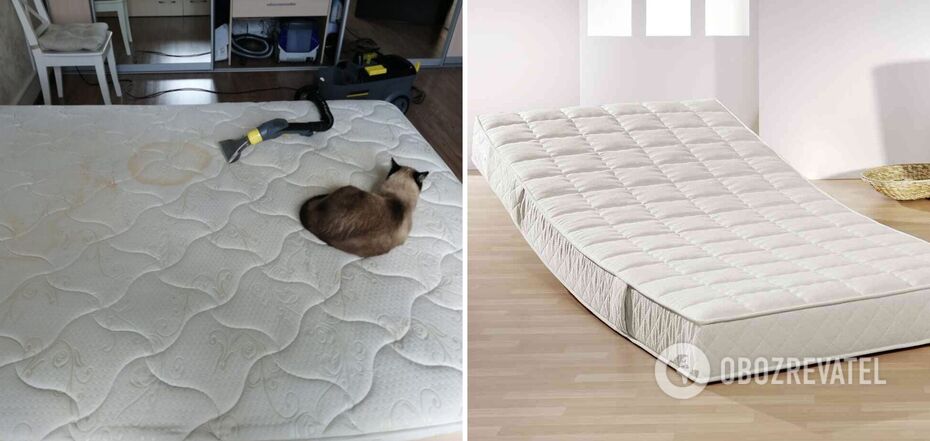 How to clean a mattress quickly and effectively
It's important to take good care of your mattress, so it will last much longer. Mattresses often get stains that are difficult to remove. The key is not to delay cleaning and to clean the fabric regularly.
Even old stains can be removed using a few effective tips. Read about the most effective ones in the OBOZREVATEL article.
Experts say that a mattress should be cleaned at least 2 times a year. It is not only about stains and dirt, but also about bacteria and debris that accumulate on the surface.
A simple recipe and five easy steps will help you clean even the dirtiest mattress.
Ingredients needed:
baking soda
vinegar
soap
enzyme cleaner (optional)
Also needed:
microfiber cloth
a vacuum cleaner
Step 1. Gently blot the fresh stain, but do not rub it. Paper towels are not suitable for liquid stains, it is better to take a microfiber cloth.
Step 2. Next, cleaning experts advise vacuuming the mattress. It is better to take a handheld vacuum cleaner or install a suitable nozzle. By the way, it is recommended to vacuum the mattress every month.
Step 3. To remove stains, you need to make a special solution. Pour warm water and vinegar into a spray bottle in a 1:1 ratio. Also grate soap and add it to the mixture. Mix thoroughly until the soap is completely dissolved. Spray the solution on each stain and leave it for at least 10 minutes. Then blot the stain with a microfiber cloth.
Step 4. If the stain is not too difficult, the previous three steps should be enough to completely clean the mattress. If vinegar doesn't help, try buying an enzyme cleaner in the store that penetrates deep into the fabric and removes the most difficult types of stains.
Step 5. Baking soda is a universal remedy. It also neutralizes odors and can prevent mold. Pour a few tablespoons of baking soda on the wet mattress, leave it for 10 minutes and vacuum it.
Dry the mattress in the fresh air and do not make the bed until you have completely eliminated moisture.
Earlier, OBOZREVATEL published some more tips for cleaning a mattress.
Subscribe to OBOZREVATEL channels on Telegram and Viber to keep up with the latest news.