Trending:
How to preserve butter mushrooms: the easiest way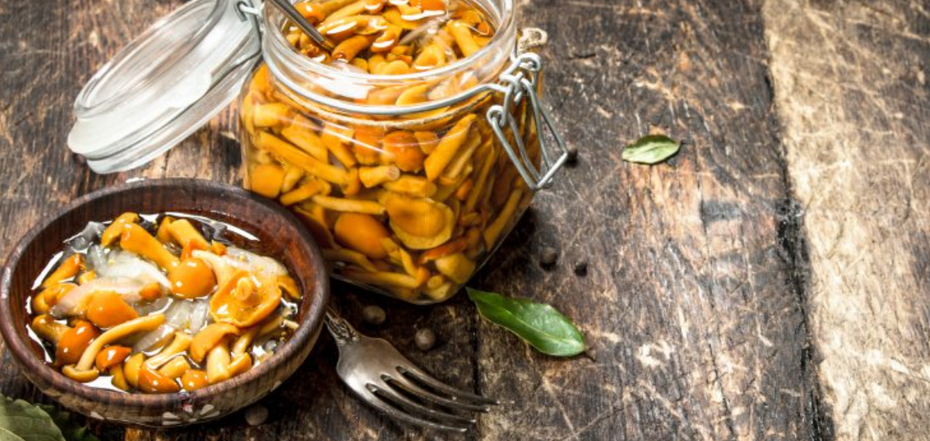 Recipe for marinated butter mushrooms
Canned mushrooms are a budget appetizer that can be found on any holiday table. They are easy to prepare and don't require many ingredients.
The most common and versatile are considered to be pickled butter mushrooms. Despite the heat treatment, these mushrooms still turn out very elastic, crispy and perfectly hold their shape in a jar. The editors of FoodOboz will tell you about some of the rules of canning and share the easiest recipe for pickled butter mushrooms.
The most important steps in canning butter mushrooms are cleaning and boiling.
Peeled butter mushrooms are advised to dry and necessarily in the first 10-12 hours after the collection. The shelf life of such mushrooms is not long.
Pour cold water over the peeled mushrooms and put them on the fire. They should be brought to a boil and boil for about 20-25 minutes, adding 1-2 tbsp. salt and 3-4 tbsp. vinegar. After cooking, the mushrooms should be rinsed under cold water.
Pickled butter mushrooms with spices and garlic
Ingredients:
butter mushrooms - 2 kg
water - 1 l
sugar - 2 tbsp.
salt - 4 tbsp.
bay leaf - 3 pieces
allspice - 6 peas
cloves - 3 units
vinegar - 3 tsp.
garlic - 3 cloves
Preparation method:
1. As noted, first you need to peel and boil the mushrooms in salted water. If the mushrooms are large, it is better to cut them in half.
2. Rinse the boiled mushrooms and put them in a colander to drain the water.
3. Boil water for the marinade. Immediately add all the salt, sugar, pepper and cloves and mushrooms. Boil it for 30 minutes. However, when 25 minutes have passed, vinegar should be added to the water.
4. Place 1 bay leaf and 1 clove of garlic at the bottom of glass jars. Place the mushrooms with the marinade and seal tightly with lids. Store the mushrooms in a dark, cool place.
Also on OBOZREVATEL you can read the recipes: